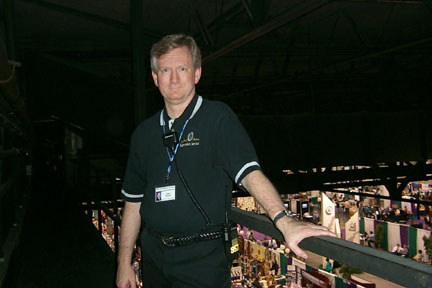 Joseph Sheppard was born in 1958 in Houston, Texas. In 1960, the family moved to Los Angeles. In 1964. Sheppard Graduated from Dayton Heights Elementary School (1971), Sun Valley Jr. High School (1974), and Verdugo Hills High School (1977). Then was accepted into the Theatre Department and Academy at Los Angeles City College, graduating with an AA degree in Theatre in 1979.
In the late 70's and early 80's, Sheppard appeared in over 30 full length plays, as well as several television shows and films. He is a member of the Screen Actors Guild (SAG), The American Federation of Television and Radio Artists (AFTRA), and Actors Equity Association (AEA). He received screen credit for his appearance in Rhinestone starring Sylvester Stallone and Dolly Parton. Sheppard also formed his own theatre group called "The Roadshow Players", that performed original and adapted stories called "Tails" at public libraries and children's homes.
In 1979, Sheppard went to work for his father at Paradice Decorating Company, a General Service Contractor for the Trade Show and Convention Industry. The job was attractive to him at first because of the seasonal nature of the business. He could work in the spring and fall, and attempt to find acting work in the slow summer and winter. However, in 1980 he found himself working in the Sign Department just as several of the companies top accounts began to take off. Handling the graphic needs of shows like MAGIC, Action Sports Retailer, Outdoor Retailer, InterBike, SIA Ski Show, The Los Angeles/Houston/Phoenix Auto Shows, The California Gift Show, CRA and others was more than a full time job. He maintained a relationship with talent agencies including All Talent, William Carroll, and Beverly Hecht, but his main focus was working the 90 hour weeks required to get the job done at Paradice. By late 1985 Sheppard was promoted to Production Foreman.
Following the death of Paradice owner, Marvin Fox, son Carl Fox sold the company to members of the sales staff. Sheppard Sr. resigned as General Foreman of Paradice in 1986, and went to work for Greyhound Exhibition Service. Later that year, the executive director of the MAGIC show suggested that Sheppard Sr. open his own company to provide decorating services for the event. In May of 1996, Sheppard Decorating opened with Sheppard Sr. as President, and Joseph. as Vice President, Internal Operations. His first assignment was to supervise the purchase and production of enough equipment to provide services on the 5,000 booth September 1986 MAGIC show at Los Angeles Convention Center.
Another duty was to computerize the new company. He purchased several IBM-PC compatible Leading Edge Model-D computers, and learned everything he could about business computing. In the process he became an early member of online data services including Compuserve, The Source and was a beta tester for QuantumLink (Later renamed America Online). In 1987 he started his own home based online service called "The Ledge PCBoard". "Ledge" stood for "Leading Edge", which was the brand computer it ran on. That system ran for ten years, and became one of the best known Bulletin Board Systems (BBS) of the pre-internet era. Sheppard was a consultant to John Dvorak and Nick Anis for the best seller "Dvorak's Guide to PC Telecommunications", and is acknowledged in the book. He authored several popular software programs that are still in use today. As the co-host of Business Los Angeles Radio "KBLA Online" he and Jon Badeaux gave computer advice to millions of listeners each day. Joseph was an originator of the U'NI-net Echomail Network that tied together hundreds of BBS systems all over the world in hundreds of topics of conversation. He was the host of the network, responsible for day to day operations for five years. Sheppard is a long time member of the Electronic Frontier Foundation.
In November of 1995, Joe Sheppard Sr. passed away after a long battle with Non-Hodgekins Lymphoma. Joseph stepped into the job of President of the company.
Although brought to the job by a sad circumstances, Sheppard has attacked his new assignment with the same commitment he has his many other endeavors. In his first year, he purchased over $500,000 worth of new equipment to give a facelift to all SDC shows, and reorganized key staff positions. He participated in the first combined negotiation effort between the major service contractors and the decorating union in more than ten years. His efforts contributed to the formation of the Local 831 Training and Retraining Trust, which he now serves as Co-Chairman. He is also a management trustee on the Local 831 Employer Health and Pension Trust. In addition, he is the Chairman of the Local 986 Teamsters Convention Trades Training Trust. He joined the International Association for Exhibit Management (IAEM), and authorized the first major Sheppard Decorating Exhibit for Expo! Expo!.
Sheppard also acts as the Account Executive for several of the companies largest accounts. Some were shows that had previously been handled by his father, and retired Vice President of Sales Thelma Mackinnon. These events include The Gutenberg Festival, PrintFest, The Los Angeles Religious Education Congress, Garden Market Expo, The Nor Cal Spring Trade Show, Scuba The Dive Show, Society for Cosmetic Chemists, IHACI and many others.
His wife Jane is an Occupational Therapist, who enjoys cross-country endurance horseback riding. Among her many ride completion is the Tevis Cup, which involves completing 100 miles on horseback in 24 hours. Her "Tevis Pony" Web site is a cartoon account of her adventure. They met when Jane's sister couldn't continue as a cast member of a Roadshow Players Production, and Jane stepped in to perform in the play with Sheppard as the director. They have three children with an age span between them of sixteen years.