I had gone over and over how to best get us to LAX for our flight to Paris. I priced hotel rooms that included parking. Lot "B" run by the city near the airport. Shuttles. Limousines. I even checked to see what it would take to use public transportation. I found out that it can be done from our part of the Valley, but it takes three hours. Almost everything costs over $100.00.
Last year, Erin's friend Luis drove us in my Suburban, which has room for all of us plus our luggage. But, this year Luis was going with us. I talked to Erin about my plight and she suggested that we ask their roommate Kelly. Kelly agreed to do it.
Erin, Luis and Kelly arrived at the house and I cooked breakfast for everyone. Starbucks coffee, bacon from my favorite smokehouse in Bishop, eggs and toast.
We closed up the house and headed off for LAX. Luckily, we were leaving on a Saturday, and there was no traffic. We made it through the Sepulveda Pass and to the terminal in record time, just over thirty minutes. L.A. natives know that this drive is almost never that short. It put us there so early that the counter for our airline, Air Tahiti Nui, was not only closed, but didn't even have signs up. We went upstairs to a lounge area that overlooked the counters and sat and waited.
Finally, workers showed up and put the signs up and assembled the snake lines. We watched two women try to get in line only to be told that it wasn't open yet. They stood there and had what looked like a very animated argument in French.
When the line opened, we went down the escalator and were directed toward the luggage screening area. This went fairly quickly, and we were escorted with our luggage to the check-in counter. For the first of many times, we produced our passports.
I explained to the ticket agent that our return flight had been cancelled. He took the tickets to the back room to see if everything was okay. He assured me that it was, but when I asked for him to re-print the tickets, he said it would not be necessary. I hoped he was right and there wouldn't be a scene 11 days later at Paris-CDG Airport over our tickets dated for a flight a day before.
With our main luggage checked, we took our carry on bags toward the gate, and waited the next two and a half hours to board the plane.
Air Tahiti Nui flies Airbus A340-300 aircraft. These planes are huge. I saw a Southwest Airlines jet, which I fly frequently for work next to it and it looked tiny close to this plane.
On board, we found everything fairly similar to last year. There was no flower given on boarding, but everything else seemed the same. This particular aircraft had a more advanced video system, including two channels with video feeds from outside the plane. It also had a touch screen, which was new, and the controller had a telephone built in, with a place to swipe a credit card to make in-flight calls.
As we waited for take-off, I took the sim chip out of my Nextel cell phone, and put it in the GSM phone I had won on a Ebay auction. I set my travel watch to show Paris time on the face, and L.A. time on the digital display.
Just before take-off, I tuned the video monitor on to the channel showing the ground from outside the plane. When we started down the runway, you could see the ground going by faster and faster, then the plane tilted up and you could see that we were off the ground. It was interesting watching that view under the plane as you could feel the sensations going along with take-off.
The flight was as pleasant as it probably could be considering we were in economy class on an 11 hour trip. Two meals were served. There were several current movies available for viewing along with video games and music. Luis and I ended up playing a trivia game against other passengers, which was fun.
After the first meal, they closed the windows and turned off the lights. I took a sleeping pill hoping I would get some rest for a few hours. I am recovering from a real phobia about flying that I have suffered from for years. Lately, I've been much more at ease flying, but I can't seem to sleep. I was hoping that the medication would help. But, it didn't. I stayed awake the whole time, in a drugged state. I won't try that again.
As we met the sun again, they came around and served us a light breakfast. I looked at the "Airshow" channel and saw that we were just off the coast of Ireland.
It wasn't long before we started our descent into Paris. Luis saw the Eiffel Tower in the distance as we were landing.
Getting off the plane was interesting because it was about 9:00am in Paris, but back in Los Angeles it was Midnight. I had already been up for twenty hours.
We walked off the plane, and toward customs, heading for the line for people with nothing to declare. I heard my first "Bonjour" of the trip, as I handed over my passport along with Casey's. They were quickly stamped, and we were officially in France, and the virtual city known as Charles de Gaulle International Airport.
At luggage claim, there were already bags from our flight circling the carousel. Ours weren't among them. I reminded myself that our trip insurance would kick in if they lost our bags. I fidgeted with my GSM cell phone, switching the network from the band used in the United States to the ones used in Euorpe. After a time, it kicked in. I called my company back in Los Angeles to see if I would get our after hours voicemail system. Check. The phone was working.
Finally we started to see some of our bags. I let out a sigh of relief. We collected everything, and looked up to see if there were signs directing us to the Paris regional rail system known as the RER. We probably could have taken a shuttle, but didn't really know how that worked. We saw signs for the RER, and just started walking, and walking, and walking. I think we rolled our luggage about a half mile before coming to the Terminal 2 RER station.
I tried to buy tickets out of a vending machine, but it didn't like my credit card. Jane and I went inside and stood in line.
The Paris Metro system is complex. It comes with a variety of tickets and passes. Last year we opted for the Paris Visite pass. After coming home, we learned by reading posts on the Usenet Newsgroup rec.travel.Europe, that this pass the most expensive option, though it can be the easiest to use.
After going over and over things at home, I came to the conclusion that our best deal was to get individual RER tickets into Paris. We paid around 40 Euros for five tickets, which would allow us to transfer once in Paris to another train that would take us within walking distance of our hotel.
Last year I had jumped on the RER to Paris just as the buzzer went off and the door slammed before the rest of the family could board. I was sent off into the heart of Paris alone during my first few minutes in Europe. This time, as we approached the train, I said, "I'm not going to be the first one to jump on this thing!". I followed the rest of the pack and we found seats.
I took out the camera and took the first of around 600 pictures, saying "Here we RER":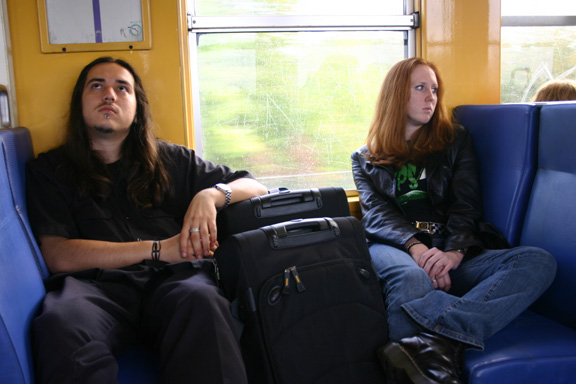 Luis and Erin on the RER from CDG to Paris
We made our transfer, and exited the RER station at Champs De Mars. I figured that the best strategy was to look up and see if I saw a building with the name "Hilton" on it. Bingo!
We walked down Avenue de Sufren to our first hotel of the trip, the legendary Paris Hilton.
Months before we were working out where we were going to stay, and I dawned on me that I had over 250,000 points in my Hilton Honors account. I used some of these points to book two rooms for free. Adding even more value to the deal was that I am a Gold Card holder in the frequent guest club, which means that I get upgraded rooms when available.
Check-in went well. I was informed that we had received an upgrade. We went upstairs to two connecting rooms with balconies. I went out on the balcony, and looked to my right, and right there, big as life was the Eiffel Tower.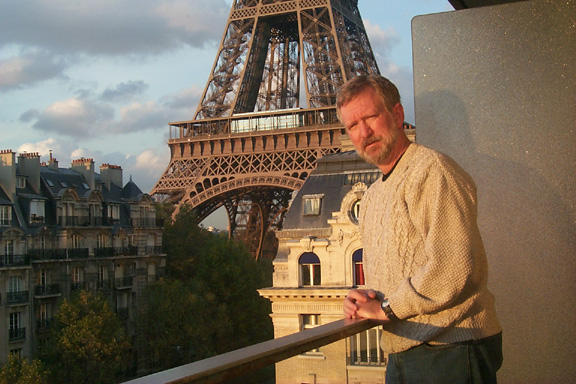 Joseph on the Balcony of his room at the Paris Hilton
Video: The Paris Hilton (37 Sec.)
Our first night on the trip was spent at the legendary Paris Hilton. Jet-lagged, but still awake, we discover that our balcony has a view of the Eiffel Tower.
We went down stairs and had lunch at a restaurant on the opposite corner from our hotel. We had learned from our prior trip that it's a bad idea to eat within a certain number of meters of a famous landmark. But, this place seemed safe enough. Everybody was speaking French (an important clue). They did, however, have English in fine print under each item, which was helpful and appreciated. The restaurant was called Chez Ribe, but they didn't serve ribs. Just very good French food.
We had an excellent lunch, and headed around the corner to get a closer look at the Eiffel Tower. Last year we had avoided the long line for the elevators by climbing to the second observation deck. However, this year that line was as long as the rest. We decided to come back later.
By this point, we were all very tired and thought we might try taking a brief nap. Luis set his watch alarm for 4:30pm and said he would get us up.
I had been awake for about 26 hours straight and fell to sleep quickly. A while later, I opened one eye and looked at the digital clock on the TV. 16:00, hmmm…30 more minutes. Opened the eye again 16:30, Luis will be knocking soon. 17:00, still no knock or phone call. I woke Jane up and told her that it was 5:00pm. "Oh, I really want more sleep". Okay. 17:30…. I woke everybody up. Something had gone wrong with the alarm. Oh well.
We went back to the tower. Not only were the lines long, but it was starting to rain. We looked up at the lighted digital sign and it said that the top level was closed due to overcrowding.
We decided to walk over by the river Seine and buy some crepes. They have a trailer there that we bought from some last year. Most people were just getting crepes with sugar. They made these fresh, pouring pancake batter over a large flat gril, then they would take a long knife and turn them, sprinkling sucre (sugar) inside and folding it up.
The guy in front of me ordered several special crepes. First they poured the batter. Then they flipped over the crepe and cracked an egg on the cooked side. They used the long knife to gently scramble the egg on the surface of the crepe. Then they put a thin slice of ham, and topped it off with cheese. Next they folded it into a square.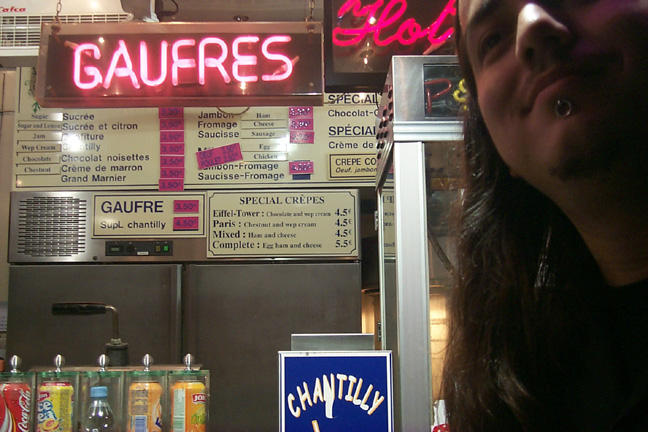 Luis waits in line for Crepes near the Eiffel Tower. Note that the special Crepes come with "wep cream"
Finally, it was our turn. I said, "Bonsoir", the answer came back, "Bonsoir". "Cinq sucre crepes s'il vous plaît". They started to make our crepes. It was like magic.
I paid in Euro, accepted the crepes one at a time, handing them to each of our group. At the end she said, "Merci". I returned, "Merci! Au Revoir!".
I spent the last year since our first trip to Europe watching The Travel Channel, and listening to CD's to help travelers to foreign countries learn how to communicate better. I was pleased by this first interaction in French. The most important thing I learned is that the French find it rude when anyone walks up and just starts talking. At the very least you have to start with a greeting, like "Bonjour" during the day, or "Bonsoir" in the evening. After that, everything seems to go okay, even if they have to (gasp) speak English to help you. Ending the conversation with "Merci! Au Revoir!", goes a long way toward getting a smile and friendly greeting the next time you walk up.
We started eating our crepes as we walked across the bridge over the River Seine. It was starting to get dark and we wanted to watch the light show. We took some pictures with both flash and available light.
Next, we walked back to the Eiffel Tower and found the line much shorter, and the top level open again. We got in line, and bought our tickets to the top, where we enjoyed a spectacular view of Paris by night. Don't be fooled by the line on the ground. Once you stand in it, you get on a line for an elevator up. Then you get off at the second level, and get in another line for a second elevator. Coming down, more lines. But, it is worth it. I'd recommend doing it early in the morning or late at night. Tickets can not be bough in advance to skip the line, as with some other attractions in Europe.
Afterward, we walked back to Chez Ribe and had a late dinner. I told the waiter that we enjoyed lunch so much that we decided to come back. He said, "Oui, I remember you". The service was again very polite and the food excellent.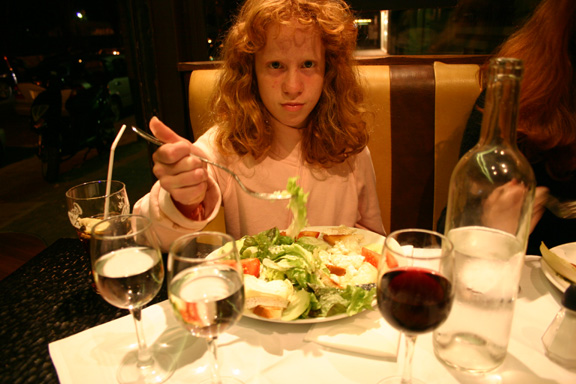 Casey eating a salad at our favorite restaurant near the Eiffel Tower called "Chez Ribe" on Avenue De Suffren
At about 9:00pm Paris time we finally went to bed for the night, approximately 34 hours after I originally woke up in Los Angeles. I slept like a baby.
Next: We check out of the Paris Hilton, store our luggage, and visit the Louvre before boarding the night train to Rome!
But first….
A time exposure photo I took of the Eiffel Tower from across the River Seine. I intentionally moved the camera to create this "wipe" effect: