At breakfast at the Hilton Arc de Triophe, Jane noticed that we had been segregated into a section with other Americans while the French were seated elsewhere in the dining room.
This hotel had also made us feel unwelcome at check-in by first claiming that an upgrade was not available, which I am entitled to as a Hilton Honors Gold Card member, and then refusing us access to the VIP lounge. It's a beautiful hotel, in a great location, but I don't recommend it to American families, unless you enjoy paying first class rates for second class treatment. Even though we stayed for free on points, those points represented thousands of dollars spent with the Hilton chain. I made my opinion clear on the guest survey. I'm not surprised that I was never contacted about my negative experience.
After breakfast we decided to walk over to the Arc de Triomphe. This monument was commissioned by Napoleon on 1806. It's bigger than I imagined. We went inside and bought tickets. Just ahead of us a group of students were trying to gain admission, but they were refused because they didn't have an adult chaperone. They walked away disappointed.
I can't remember exactly how many steps there are in the arc, but it seemed to me that it was harder to climb than the Leaning Tower of Pisa. Or maybe I was just getting sicker. So was Casey. I was glad we would be going home soon for her sake. She remained a trooper, but you could tell that several days and nights of coughing were taking their toll.
At the top of the Arc it was very cold and windy. I took off my sweater and put it on Casey, since the wind was making her cough. I was sick too, and feeling slightly feverish. The wind felt like it was cutting right through my short-sleeved thin blue sport shirt.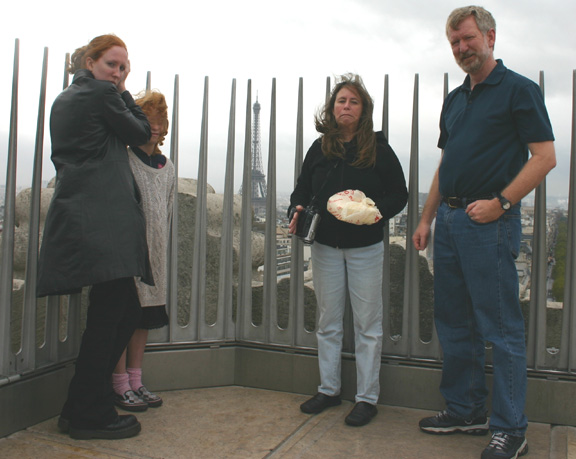 Freezing at the top of the Arc de Triomphe
Video: Arc De Triomphe (1 Min. 08 Sec.)
We climb to the top of the Arc in Paris on a cold, windy day.
Exiting the Arc we walked around in circles for a while trying to find the Champs-Elysées. On my trip to Europe last year, I asked my Mother if there was anything I could bring back for her. She gave me a name of a specific perfume. I planned on trying to get it on our last day, but then we were stuck for several hours in a train station in Rennes, and I didn't get it for her. This time I was determined to find it, and what better place to look for French perfume than France's most famous shopping street?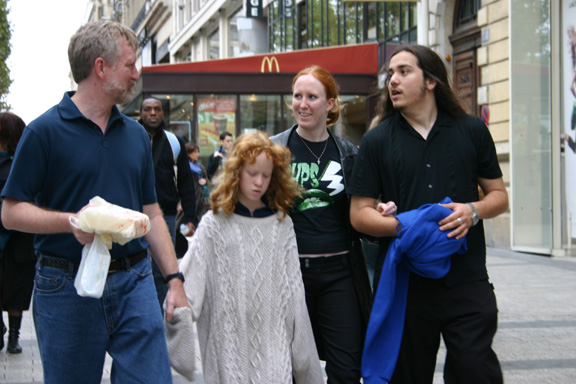 Walking down the Champs-Elysées. Casey looking sicker by the minute, and trying To stay warm in Joseph's sweater. Check out France's most elegant Mickey D's in the Background.
I told the kids to keep an eye out for a store with a word that looked like "Perfumerie". Louis immediately spotted one. We walked inside.
A sales lady walked up and I reached into my pocket to show her the name of the product I was looking for. "ANNICK GOUTAL HADRIEN". She looked at it and told me that they did not carry that brand. I asked if she knew who might. She asked the other sales ladies, and they directed us to another store a down the street.
This was a much larger store with a lot of different perfume on sale. We found a sales clerk and I showed the note from my Mom. She told me that the Annick Goutal boutique was right around the corner.
We found the boutique and went inside it was very small. I showed my note to the lady inside, and she pointed out a bottle and said voila! I didn't even ask the price, this being my second trip to Paris in two years, I wasn't going back home without my Mother's perfume. It turned out to be slightly less than 100 Euros. She wrapped it inside of a very elegant bag that had the name of the boutique on the outside. I knew my Mother would be thrilled.
Having accomplished my good deed for the trip, we headed back up the Champs-Elysées, to the Hilton to get our bags and head toward the CDG Airport Hilton, our final destination in Europe.
We wheeled our bags out of the Hilton and headed for the Metro. At the gate I went to the ticket window and asked for "cinq billets au Aeroport Charles De Gaulle". I paid by credit card, and we made our way on to the subway train.
At Gare De Nord, we transferred to the RER. When we arrived a train to the airport was just getting ready to leave. Once again afraid to get separated I waited, and we argued for a minute about getting on this one or waiting for the next. We waited. As the train left, Erin noted that it was a direct train that only stopped at the airport.
The next train came and we crowded on board. There were no seats so we squished ourselves in with all our luggage and started an uncomfortable ride. This was not a direct train and made frequent stops in the suburbs northwest of Paris, that only 24 hours later would make headlines worldwide as ground zero for the worst rioting in France in decades.
I didn't notice at all that we were travelling through a powder keg about to explode. People on the train were mostly of African descent, and some that appeared to be Arab. But, everyone minded their own business.
When we were coming to the last few stops, it appeared tha tall the locals had exited the train, and we were down to travellers going to the airport. We all found seats. A man started to talk to me in English asking which terminal I thought he should go to. I told him that I wasn't local, but my understanding was that most international flights left out of terminal 2, and the domestic flights were out of terminal 1. A French woman heard us talking and told him that I was correct.
We got off at Terminal 1, and started looking for signs for the Hilton shuttle. We walked around the train terminal for quite some time, until Luis spotted a sign with an arrow that said "Hilton". I thought that was odd, because it just said the name of the hotel, and not "shuttle". We followed the signs outside the terminal, and I looked around for a shuttle stop, just to see the actual hotel about 500 yards away.
When we arrived inside, I braced myself for one more French hotel clerk. My last experience had been less than welcoming, but I figured I could get through it one more time.
I walked up with my Hilton gold card, and American Express Hiton Platinum card in hand. "Bon Jour!", I said. "Bon Jour!", the clerk responded. "Missure Sheppard", I said, handing her my cards. She said in English, "Are you checking in?". I said, "Oui". Then she said something in French. I said, "Pardon?". Then she asked me in English, "Do you speak French or English?".
I was actually very proud of myself being asked that question by a French person in France. I said, "Anglais, si vous plait". She politely switched to English, but considering that a year ago I described myself as a "Francophobe", I felt like I had made a giant leap.
The clerk told me that booth of our rooms were upgraded into connecting suites on the top floor. I was delighted. She explained access to the VIP lounge, and treated us like we were important. I was very pleased. I said, "Merci boucoup", and walked smiling to my waiting travelling companions.
When we arrived upstairs, we found our rooms at the very end of the hallway behind a large double door with both room numbers on the outside. I slid one of the keys and the doors opened into a waiting room with a door on each side and a door in front of us. The side doors had the room numbers on them, so I gave Erin and Luis their keys, and I opened our room.
It was a massive suite with a full living room, bed room, desk, large beds, two televisions, and a private sitting room with couches off to the side. It had huge windows that wrapped around the hotel with views of Paris in the distance and the airport all around us. Erin and Luis's room was just as impressive, and included a large bathtub. With the doors open and the hallway doors closed, the two rooms together had more square footage than a lot of homes. This was a great place to end our vacation. We decided just to stay the rest of the day at the hotel and relax.
After a while, Casey and I went down to the indoor swimming pool. We were both sick, but what 11 year old can pass up a hotel pool? We went down together for a while, and were all alone in water warm like a bathtub. Casey and I floated around and talked about what a great time we had, and how we looked forward to going home and seeing our pets.
Returning to the room, we decided to visit the VIP lounge. Inside we found snacks, and free drinks, including alcohol. Luis and I tried to make ourselves mixed drinks, not quite sure of what it was we were mixing. We watched the news on TV, and were all alone for most of the time in the lounge.
Later we ordered room service, and had excellent meals. This hotel was first class, and it was great to be treated like our business was appreciated.
That night we watched quirky French TV, that included some nudity. I thought about how silly it was back home when Janet Jackson exposed her breast at the Superbowl, and how that wouldn't even rate a glance by people in France.
It was a relaxing end to a wonderful trip in a first class hotel that treated us like roalty.
Next…We fly back home, with Casey and I coughing on strangers all the way back to Los Angeles!
But First… A picture taken from the top of the Arc de Triomphe. Our last day in Paris, looking back at where we started on our first day in Paris: