The top bunk of a sleeper compartment setup for three is really for a short person. I thought I'd be a man and offer to sleep up there so Casey or Jane didn't have to make the climb. It wasn't a good night for sleep. But, eventually morning came, and it was apparent we were someplace in Italy.
I knocked on the compartment next door, and wished Erin a happy 21st birthday. This would be her second birthday in a row spent in Italy. Last year on this date we were in Venice.
The attendant came in and turned the beds back into seats. He brought us a typical Italian breakfast of coffee, orange juice and pastry. Casey received hot chocolate.
At one point we stopped on a bridge for a long time. I looked out the window and watched two men under the bridge clearing and burning brush.
We arrived at Roma Termini, the main train station for Rome. We went from the quiet of our private sleeper compartment directly into the hustle and bustle of the eternal city.
Termini is practically its own town. A huge complex of shops, bars, restaurants, newsstands and trains. Lost of trains.
I stopped at a Tobacco stand and purchased our Metro passes. 16.00 Euros each for an entire week of unlimited public transportation including subways and buses. A great value, and much less confusing than the assortment of passes available in Paris.
From there we decided to walk to the apartment. Jane led us past the place where she had lived in Rome 27 years before.
When we arrived at the apartment, I took out my cell phone and placed a call to Miss Cristina from RentalInRome.com. I was told that she would be waiting at the apartment with our keys, the same as last year.
Miss Cristina did not answer her phone, instead I received a message in Italian. I tried again. No luck. I tried calling RentalInRome.com. No luck.
I started to wonder if we were about to find out that the company went out of business. Then, my cell phone rang. I answered, "Hello?". "Pronto? Pronto?" said the female voice on the other end. It was Miss Cristina. She was running late, but on her way. What a relief.
Luis walked with me down the street to the Bancomat (ATM) so I could draw out some cash. It's easy to get by without cash in Paris, because everybody takes credit cards. But, in Rome, most of the family style restaurants we like to eat in are strictly cash.
The Bancomat was right where we left it last year, right next to the stairway leading down to the Metro. It was great to be back in a familiar neighborhood.
Miss Cristina arrived and recognized us from last year. We shuttled the luggage a few bags at a time using the small lift (elevator) that reminded me of the one in "The Rocky Horror Picture Show".
When we entered the apartment, it was like we never left. The only thing different was photographs had replaced a huge tapestry above the bed. I flipped the hot water switch so I could hopefully take a hot shower soon.
We decided to go find some lunch, and headed toward our favorite restaurant from last year, Noah's Ark.
We arrived at the area we thought was correct, but the restaurant wasn't called Noah's Ark anymore. We were very disappointed, but sat down to eat anyway. When we received the menu, it seemed identical to the one a year before. The restaurant was now called "Il Padellaccio 2". As near as we could figure out, the only thing different was the name. They still had the same crazy, funny, friendly waiters.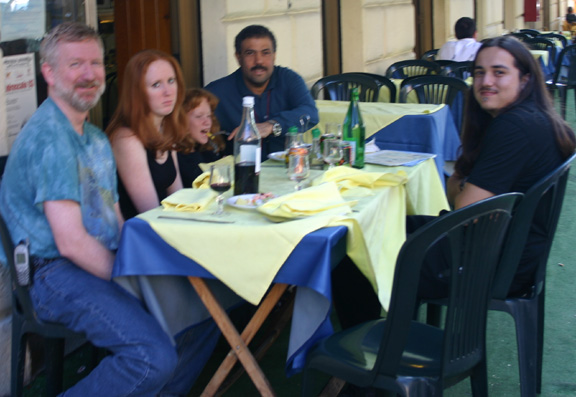 Joseph, Erin, Casey, our Waiter and Luis at our favorite restaurant in Rome, Il Padellaccio 2
We decided that the first thing we wanted to do was something we were unable to on the last trip. The Bone Chapel, a world famous ossuary at the church of Santa Maria della Concezione near Piazza Barberini. Last year, the chapel was closed.
We took the metro to the stop near the Tritone fountain. Just north of the fountain is the church.
Once inside we saw thousands of human bones arranged in all kinds of patterns. Some were whole skeletons still dressed in monks robes. One arrangement we saw repeated many places was a skull with hip bones on each side making it look like some kind of flying creature.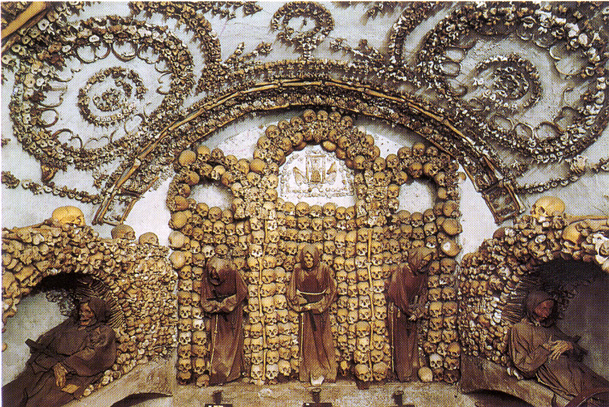 Everyone smiles at the Capuchin Crypt in Rome
It was interesting listening to comments of others as they walked through the display. I assume that all of us knew what we were going to see. But, some people seemed very disturbed by it all. A year ago when I tried to explain what we wanted to go see to Casey, she cut me off saying, "Cool! I saw that on Discovery Channel!".
Video: Bone Chapel Banter (59 Sec.)
While waiting for the Metro, Casey gives her opinion of the Bone Chapel in Rome.
After bidding the monks farewell, we set off to find the Trevi Fountain. This is not that easy to locate for some reason. There are signs, but we get lost trying to find it every time. But sooner or later, you hear the rushing of water, come around the corner, and there it is.
Video: Trevi Fountain (1 Min. 14 Sec.)
Erin celebrates her 21st birthday fighting off street vendors and almost getting whacked in the head.
It was Erin's birthday, and she wanted a cake. So, we went back to the apartment. Jane and I went cross Piazza Vittorio to a pastry shop I had visited the year before. Unfortunately, they were already closed. We ended up across the street at another shop and got what turned out to be a tiramisu cake, which Erin didn't like, and remained in the refrigerator until we left later in the week.
Jane wanted to go and see some ruins before dinner time. The rest of us were tired, so Luis went with her over to the area near the Coliseum. I took a shower, working very quickly to finish before the small hot water heater in the apartment went cold.
When Jane and Luis returned we went back over to Il Padellaccio for dinner. At lunch we had tried to order Pizza, but they only have it at dinner time because it takes a long time to get the Pizza oven to the right temperature.
Since leaving Rome last year, I haven't been able to find an American Pizza that I like. Pizza in Rome is so simple, but so delicious. I ordered a Pizza Marinara. Very thin crust with a little bit of tomato sauce, slivers of garlic and fresh oregano. The Pizza is the same size as you get in the US, but it is so light that one person eats an entire pie.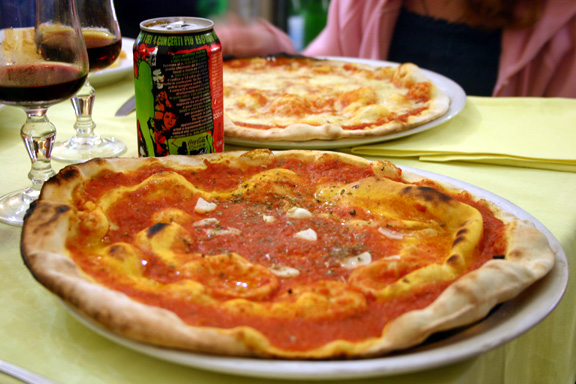 A typical Roman Pizza. Thin crust. The edges look thick, but it's hollow, so if you bit into that it would be lightly crunchy. In front is a Pizza Marinara (tomato sauce, garlic and oregano). Behind is a Pizza Margarita (tomato sauce and cheese).
I was almost afraid to start eating the pizza. I had built it up in my mind so much after a year, I was afraid I would be disappointed. NOPE! It was every bit as good as I remembered.
Video: Dinner in Rome (1 Min. 9 Sec.)
A Casey's eye view of Dinner at our favorite Restaurant in Rome.
After dinner we went across the street and for gellati, Italian ice cream. The best places make their own ice cream right at the store. This particular place had a large assortment. I recently had some oral surgery and became addicted to rice pudding. So, I ordered the "Riso" (Rice) gelato. It was delicious, with actual kernels of rice in the ice cream.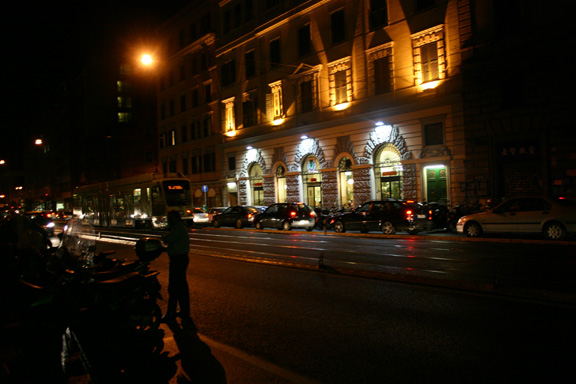 The gellataria. Rome's answer to Baskin Robbins. This one was located across the street from the apartment we rented in Rome
We strolled back to the apartment eating our gellati with a dab of crème fresh on the top, looking forward to more nights like this in Rome.
Next: We visit the Vatican and get a surprise an up-close look at its most famous tenant!
But first….One of the greatest things about Italy is the great flavors you get a chance to indulge in. Can you smell the cappuccino?