The day before was very long. So, we decided to sleep in and not really plan anything this day.
But, after a while, Jane and I were ready to explore more of Rome. Erin and Luis decided to stay behind and sleep some more; Casey elected to come with us.
We headed back to the Vatican because I had never been inside Saint Peters Basilica. Last year we went to the Vatican Museums and saw the Sistine Chapel. But, didn't make it inside the actual church. Jane had seen La Pieta, the statue by Michelangelo of Mary holding the body of Jesus, years before. I wanted to see it for myself. So, we took to the Metro and quickly found ourselves at the stop for San Pietro.
The Metro stop is a long walk from the actual Saint Peters, and we had already done so much walking. I mentioned to Jane that our Metro passes were supposed to include the city bus. But, walking down the road, we couldn't figure out exactly where the bus stops were. So, we kept walking.
Erin had not wanted to come, because she believed we would stand in line for several hours to get into the Basilica. I was afraid that she might have a point. So, when we arrived at the line, I noted my time. Only a few minutes later, we found ourselves at the metal detectors and were screened by Vatican security.
I don't know what I expected from Saint Peters Basilica, but I was really overwhelmed by the size and grandeur of it all. Right off the bat, I looked to my right and could see in the distance, La Pieta.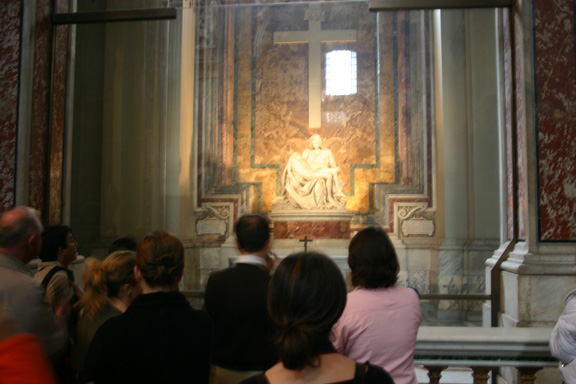 In the distance, behind thick glass, Michelangelo's La Pieta carved in the year 1499
Jane remarked that when she had seen it back in the 70's, you could actually walk up and touch the statue. That was before a mentally disturbed geologist called Lazlo Toth walked into the chapel and attacked the statue with a hammer while shouting "I am Jesus Christ."
It does amaze me how much of our day is impacted by the actions of a few lunatics. Just to get into the Vatican, you have to be screened in a similar fashion to when you board an airplane. Still, when we were in Saint Peter's square a few days before, I had been surprised to see that the new Pope was not glassed in as he was driven through the crowd in the Popemobile.
After seeing La Pieta, we walked around the chapel. It is truly grand, with massive works of art every place one looks. I was surprised to come upon the remains of past Popes on full display in glass coffins.
As I walked by one such area, a tour was in progress, with the guide explaining in English, that some of the popes were covered in wax, which gave them an unusual appearance.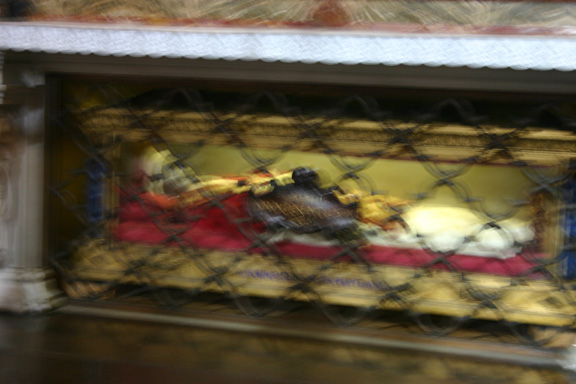 Difficult to make out due to low light conditions, but these are the remains of one of the Popes on display inside Saint Peter's Basilica
I found the church absolutely impressive, and would recommend that anyone visiting Rome take the time to go inside.
When we left the main chapel, we saw a line for people who wished to pay their respects to Pope John Paul II. Jane and I have a lot of admiration for this Pope, and were sorry that we did not get to see him when we were in Rome the year before.
After waiting in a very long line, we were admitted into an area that I recognized from last year during the underground Scavi tour as The Vatican Grottos.
We were allowed in a few at a time, and came to an area where people, including several Nuns were kneeling in prayer behind some ropes. As we walked along, we viewed the grave of Pope John Paul II.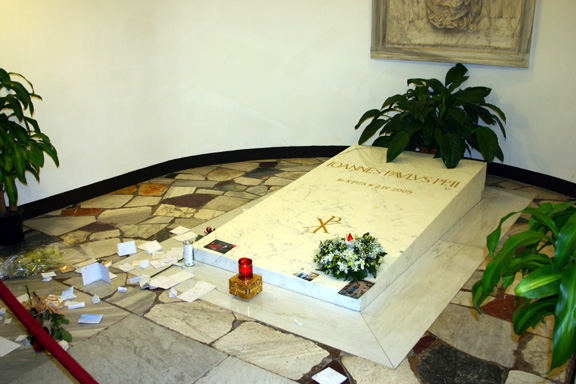 The grave of Pope John Paul II at the Vatican
When we left the grottos, we exited where we had entered for the underground scavi tour a year ago. This was where we tried to pass Casey off as being one year older than she actually was so she could go on the tour. It didn't work.
We passed by what appeared to be the same Swiss Guards as the year before. Jane raised her camera, and I cautioned her that last year I had received a very stern "NO FOTO!!", from one of them.
We exited Saint Peter's Square and headed toward a restaurant we had lunch at the year before. We sat out on the sidewalk, but then I noticed a man smoking a cigar. Casey's cough was getting worse by the day, so I asked if we could move inside.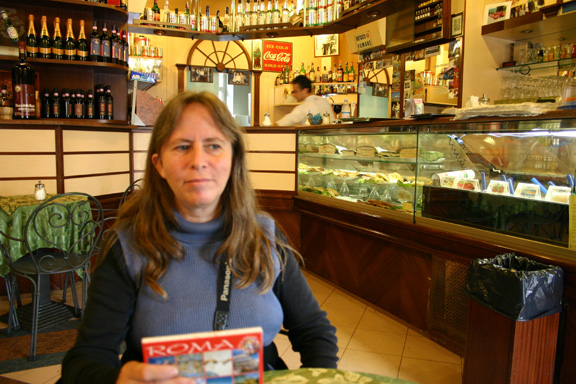 Jane sits inside a café near the Vatican
I had a dish that consisted of well done roast beef with gravy and potatoes. It was excellent. Casey ordered a hamburger. It was kind of amusing to see Rome's take on this American favorite. It was served on the thin Panini bread, with a small patty and lots of tomato. She said it was very good.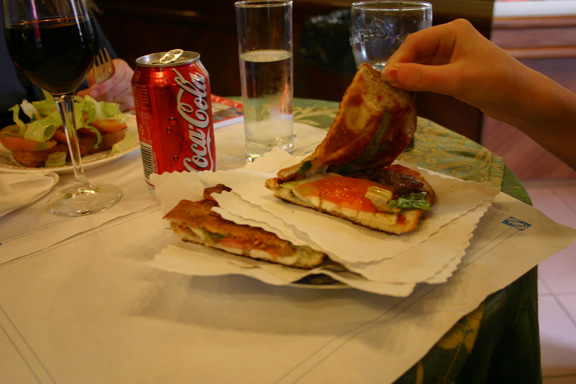 Casey shows her Roman Hamburger along with another American Favorite, Coca Cola
Video: The Vatican (1 Min. 40 Sec.)
We go to Saint Peter's and tour the Basilica.
After lunch we got brave and found a bus stop. What we discovered was that on the bus there is the same machine that you find at the turnstiles at the Metro. You just stick your ticket in the machine the same way and ride the bus. I was sorry that our days in Rome were drawing short, because this was a way to save a few extra steps between Metro stops and major attractions.
We got off the bus at what we thought was the Monument to Vittorio Emanuelle, but it turned out to be far from that. We decided to just walk a bit. It was a nice day and for once was not raining.
We stopped at one set of ruins and I noticed this huge stray cat laying on his back. It reminded me of Erin and Luis's cat at home named Kitti, who is also huge and lays on his back.

Left is Erin & Luis's Cat, Kitti. On the right must be his long lost Pisan, Kittini
We continued along, and soon came to La Bocca della Verità, or "The Mouth of Truth". This is a famous scupture of a river god, but has been used since the middle ages as a lie detector. The story is that if you tell a lie while your hand is in the mouth of the sculputure, it will be bitten off. I stuck my hand inside, but didn't test the theory by telling any lies.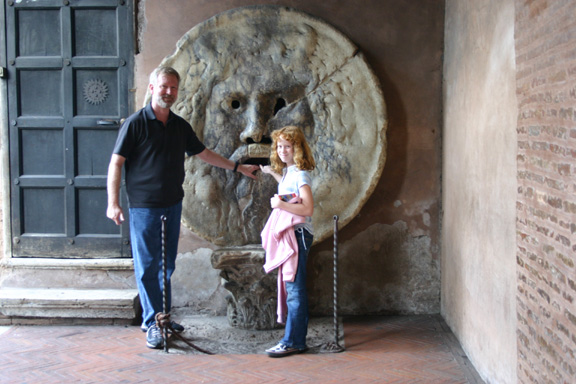 Casey and I tempt fate at La Bocca della Verità
It's fun to see famous things. I kept thinking about that old Audrey Hepburn movie, "Roman Holiday" while we waited for our turn.
Leaving the Bocca, we continued on to the Circus Maximus. This is a site in Rome near the Coliseum that has not yet been excavated. It an ancient site that was used by the Romans for things like chariot races. Now it looks kind of like a running track. In fact, some locals were using it as just that.
Casey was a bit bored by this, so I told her that they hadn't yet explored this site, and she might find some ancient Roman coins. From then on she was focused on the ground picking up every dark object she could find, but no coins.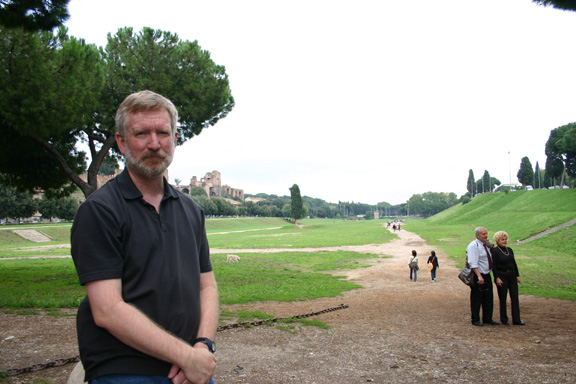 Joseph at the Circus Maximus
Video: The Ruins (2 Min. 50 Sec.)
We exit a city bus too soon, and end up walking thru Rome, stopping by the Circus Maximus and La Bocca della Verità.
A few days before, we had tickets that admitted us not only to the Coliseum, but also the Palatine Hill. We blew off seeing the hill due to the pouring rain that day, but said we would pay to see it another day. As we walked to the end of the Circus Maximus, we could see the hill right there. Jane was talking about returning to the Apartment, and I said, "Jane, I can't believe you are going to pass up the Palatine Hill!". This was kind of ironic, because Jane has really been a driving force behind us visiting virtually every famous spot in Rome, to the point where some of us had started to complain. She looked at me and said, "You're right! It's right there!".
So, we continued on to visit the highest of the seven hills of Rome. This was the site of the homes of many of ancient Rome's rich and famous. It has a fantastic view of the Forum, The Coliseum and the Circus Maximus along with most of the rest of modern Rome.
None of us had visited this area before, and I thought it was one of the best new discoveries of the trip for us. Palatine Hill is to ruins what the Petrified Forrest in Arizona is to wood turned to stone. Every place you look, there are buildings, original roads, fountains, and all sorts of columns (some standing, some not). I found this place totally fascinating, and would like to spend the better part of a day here on my next trip to Rome.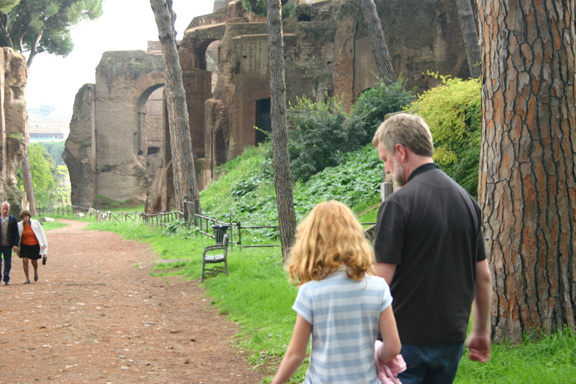 Casey and Joseph walking among the ruins on Palatine Hill
Exiting the hill, we found ourselves near the Coliseum and the Metro station. We hopped on board, changed at Termini, and found ourselves back at the Apartment.
Erin and Luis told us that they had tried to contact me on my cell phone. They took the Metro down to Saint Peters in hopes of joining up with us for lunch and some exploring. But, I never heard the phone ring. They had lunch near the Vatican and returned to the Apartment, spending the remainder of the day relaxing.
After a bit of rest, we headed back to Il Pandellaccio 2 for our last dinner in Rome. It was Saturday night, and they were very busy. But, the waiters, who had come to know us over the last few nights, showed us to a good table.
Casey presented her favorite waiter with a drawing she did of the restaurant. He was very pleased with it and put it up on the wall by the cash register.
We had another excellent meal. At the end, I told Jane that I wanted to tip our waiters since it was the last night. I had learned after our last trip that service is usually included in meals in Italy. So, I had not been really tipping, but sometimes rounding up the bill.
Casey wanted to tip her favorite waiter. I wasn't sure how that was going to come off. She handed him a bill. He smiled, took it, and signed it, giving it back to her with his autograph. I told Casey we would frame the bill when we got home so she could always remember her favorite waiter.
After that, I wasn't sure how we were going to tip these guys, so we left some extra money on the table under a wine bottle and said our goodbyes.
Then we walked across the street for one last gelato before returning to the apartment for the last night.
Next…we spend a large part of our day trying to drop off our luggage at the Termini station left luggage area, and kill more time in Rome before leaving on the night train to Paris!
But first… A photo of the Roman Forum taken from Palatine Hill: