The plan was to take the night train from Rome back to Paris. We hoped that our apartment would not be rented the next day, and perhaps the rental company would let us stay late. This didn't happen. When we checked in, Miss Cristina told us that we had to be out by 11:00am, because they had a 2:00pm check-in.
I did some investigating on the Internet from home before we left. Roma Termini train station has a left luggage area. I remember seeing the signs on our trip last year, and imagining that was where the lost and found might be. But, it is actually a place where you can leave your luggage, for a price, while you go sight seeing.
This sounded like the answer to all of our problems. So, on the morning of our 8th day, we got up. We packed. Then, ate the rest of the eggs, bread and meil pops before we cleaned the apartment.
We walked across the street to Piazza Vittorio to visit one of the ruin cats, on orange tabby, that Casey had made friends with. We bought a box of dry cat food that we brought with us to give to the cats.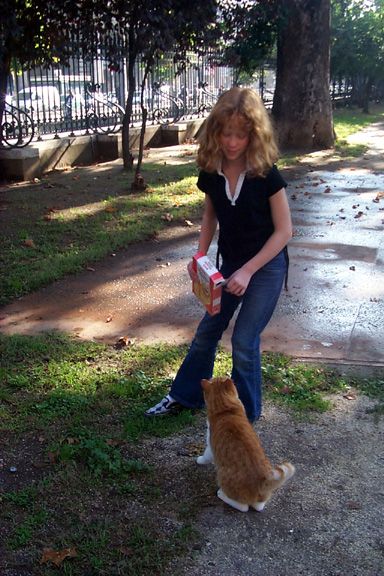 Casey feeding an orange tabby "ruin cat" she made
friends with at Piazza Vittorio
I felt a bit of sadness while getting ready to go. This was our second time staying in this apartment, and it felt like home. But, the neighborhood around the apartment was quickly changing. A year ago, it was still mostly an Italian neighborhood. In so little time it seemed to have changed. Luigi was gone from the bar downstairs, and it seemed like the only Italians were older people who couldn't afford to move.
Just a few blocks to the west, on Via Merulana, where we had done our laundry there was a thriving Italian neighborhood, with restaurants, shops, and even a movie theater. I was thinking that, given the other choices we have, this might be the last time we might stay at Principe Eugenio.
We walked to the metro station and went underground in Rome for the last time during this trip.
Arriving at Termini, we started following the "Left Luggage" signs, through all the shops and down a long moving sidewalk. We arrived at the area and saw a line. No surprise. Then we walked around the corner to find the end, and saw that the line stretched probably a quarter of a mile way down a hallway. It didn't seem to be moving, and the people at the front had kind of a hopeless look about them.
We really had no other choice, than to carry our luggage around Rome all day. So, we planted ourselves in the line.
It took 2 ½ hours to make it to the front, since every bag had to be x-rayed due to stricter security. We realized that we would have been better off paying for an extra night at the Apartment ahead of time than losing so much of our day dropping off and picking up the luggage.
Casey's cough was growing worse by the day, though she seemed energetic enough, and was still having fun. I had a liter of water in my suitcase, and when she said she was thirsty, I had her put her head back and I would pour the water in to her mouth. She looked like a little bird doing this.
Video: Left Luggage (1 Min. 23 Sec.)
We had to wait 2 1/2 hours in the line to check our luggage at Termini station. To keep Casey from spreading what we thought was a cold, I pour water into her month from a bottle.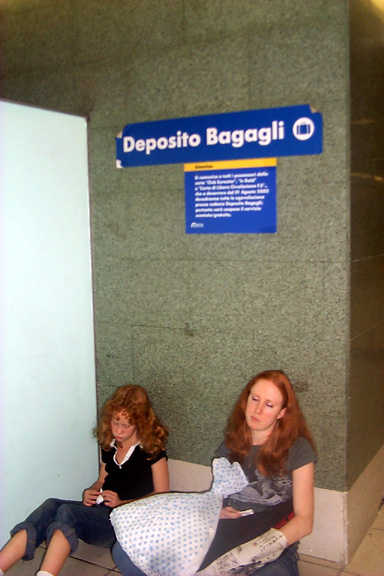 Casey and Erin wait 2 ½ hours at the Left Luggage
area at Termini Train Station
After depositing our bags, it was getting close to lunch time. Erin and Luis wanted to take us over to the place they found that was near the Vatican.
We found the restaurant, but it was right at noon, and they were packed. I walked up to a waiter and said, "Cinque, Per Favore". He said, "Reservato?". "No reservato", I answered. They were too full.
Back to the Metro, we headed toward the Spanish Steps. It was also very crowded this day, and we couldn't find anything buy McDonalds for food.
Finally, we decided to go over toward the Coliseum. We had a good lunch a few days ago at a restaurant down one of the side streets called Antica Hostaria . When we arrived, we found this place very full as well, but they were able to seat us. The waitress warned us that if we picked a variety of things from the menu, it would take a long time. We all had a fettuccini Bolognese, and put away another bottle of house wine.
Jane wanted to take everyone up to see the statue of Moses, but Erin and Luis weren't interested in it. Time was growing short, so we went back to Termini to get our luggage and wait for the train.
Picking up the luggage wasn't as much of a problem as dropping it off. We paid a nominal fee for the storage, and headed to the trains.
We looked at the posted schedule, and found the track. No train yet, so we settled in on the benches. Casey worked on her homework.
Jane and I decided to go walk around the station a bit, so we left the kids in charge of the luggage and wandered around Termini. Jane wanted to find a place the sold the Kinder Surprise eggs, but not luck.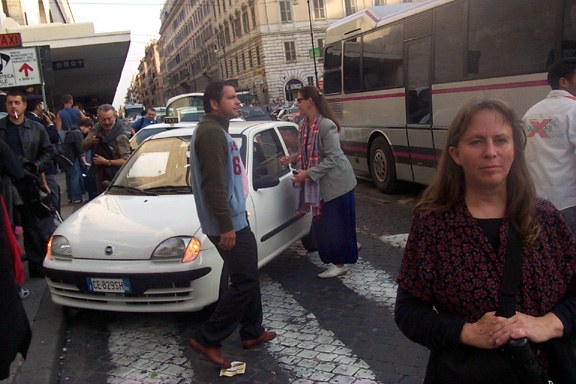 Jane outside Termini Station on our last day in Rome
When we got back to the tracks, we realized that it was about 30 minutes before the train was scheduled to leave, and there still wasn't a train. If we learned anything about trains in Italy, it is that they seldom seem to leave from the track that is printed on the schedule. Jane and I went to the information booth.
"Que Binario?", I asked the attendant while showing him my ticket. He answered in English, "It is very easy, you just look up at the screen FIFTEEN MINUTES before.".
We left and headed back to the track, where our train had arrived and was taking on passengers. We found our car and climbed on board.
We had made a deal with Erin and Luis that we would have Casey in our compartment on the way to Rome, if they would take her on the way back to Paris.
Soon, it was dinnertime, and we managed our way down the narrow moving corridors to the dining car as Rome vanished behind us.
After we finished dinner, I noticed that the waiter was going from table to table telling people that they could not take credit cards, and it was cash only. I thought this was strange, since we had paid by credit card on the way to Rome.
Jane and I were seated in the last tables at the far end of the car. By the time he came to us, most of the people had already paid and left. The waiter presented the bill, and I pulled out my Visa card. He explained that there was a problem with the credit card machine. I told him that I was paying for five people, and he should have let us know that before we ate, that I was not carrying enough cash to pay for all five. All of a sudden the credit card machine worked. I wondered if they were running a scam on the train company by saying they could only take cash.
After dinner, we headed off to our sleeper compartments. Jane slept on the top bunk this time, since I had such a terrible time up there on the way in. It was nice to be able to look out the window when I would wake up in the night.
Next…We return for two more nights in Paris. We climb to the top of the Arc De Triomphe, and shop along the Champs-Élysées!
But first…A photo from our last few minutes in Rome. Luis and Erin walk toward the Coliseum after having lunch at Antica Hostaria.