Our eleven year old daughter, Casey was getting sick. It started as a sore throat, then a dry cough. One morning in Rome, I walked into a pharmacy with her and said, "La Bambina…(cough, cough)". The Pharmacist knew exactly what we needed, and brought out children's cough syrup and told me to give her two teaspoons. It didn't seem to be working very well, and every day she coughed a bit more. But, she is a trouper, and kept up with us the entire time, not complaining any more than the rest of the family.
The night before, Luis and I ventured out to Termini to see about getting reserved seats on the Eurostar. We took the Metro from Vittorio one stop to Rome's massive train station.
We found the window for people with passes, and observed the friendly Eurail logo. Our Eurail pass allowed us on most trains at no extra charge, but the Eurostar is a deluxe high speed bullet train, and it requires an extra 15.00 Euro per person.
We stood in the line for a while, and watched the Termini night life. When our turn came up, I said, "Buona sera". The man behind the counter spoke back to me in English, asking me how he could help. I told him that we wanted to take the Eurostar from Rome to Pisa in the morning. Then he did us a favor. He pointed out that taking the Eurostar would force us to change trains in Florence. But, if we took an InterCity (IC) train only five minutes later, there would be no extra charge, and that train went direct to Pisa.
We headed back to the Metro, happy to have saved approximately ninety American dollars, and probably a lot of time and effort the next morning.
When we down the escalator and headed toward the Metro line back to Vittorio. The train came, and we found seats. When it stopped, we should have been at Vittorio, but we weren't. "Crap, Luis…. We are on the wrong train!", I said. Then I looked and the Coliseum was the next stop. I suggested that maybe we stay on one more stop and take a look at the Coliseum all lit up at night. Luis was open to this, so we sat back down. I smiled and said, "We don't have to let the girls know that we got lost, right?".
We got off at the Coliseum stop, and went up and walked outside and saw the famous monument lit up. It took on a totally different character at night. We stared at it from the doorway of the subway station, and then shrugged our shoulders and said…"Okay!".
Back down to the metro. Back to Termini to change to the other line that went to our apartment at Vittorio Emanuel.
Then we figured it out. The line that we wanted to be on was closed for the night! I remembered reading about this before we left home. That one of the subway lines would close early every night for some kind of repairs.
So, there we were, back at Termini, thinking about the awful truth that we were going to have to walk back to the Apartment. It's not that far, but we had already walked so much, I was getting to a point where I wanted to walk less.
We decided to take a cab. The cab line was short, and we got into the back seat. I said, "Buona sera!". The driver answered my greeting. I then did my best to tell him where we wanted to go, "Piazza Vittorio. Princepe Eugenio y Marmora, per favore". "Si", he answered.
I was pretty happy with myself as he started driving in the correct direction. As we arrived on our block, I tried to tell him to stop at the traffic light to let us out. I'm not even close to being able to put that together in Italian. This driver didn't speak any English at all, so all I did was confuse him. So he just stopped right in the middle of the street.
I kept pointing ahead and saying, "Traffic Light". He didn't have any idea what I was talking about. Luis speaks fluent Spanish, so he gave it a try. Still no luck. He started to roll forward slowly, and after a few feet, I said, "Perfecto!!". He stopped. I paid about 5 Euro for the ride, and we walked down to the end of the block and into the Apartment, having been all over Rome, but, coming home without the train tickets we originally set out to get so long ago.
The next morning we got up early. I scrambled some eggs that I had bought at the nearby super market. We also had bought a big loaf of very crusty bread. I cut off big hunks, and we ate it with butter. We also had picked up the Italian version of Kellogg's Sugar Pops, which in Italiano is "Kellogg's Miel Pops".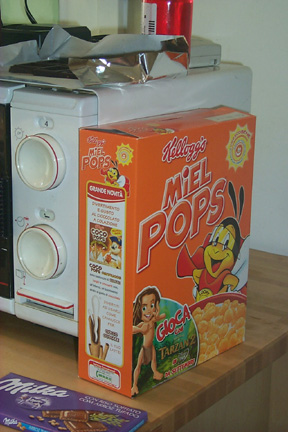 Kellogg's Miel Pops, the breakfast of Italian champions
We finished breakfast quickly, and headed to Termini to catch the InterCity train to Rome. As we raced toward the tracks, I stopped to look at the printed schedule on display. It said the train would be on track six, so we headed for the track. When we got there, no train. No problem, it would probably be pulling up any second.
As we sat there, I looked over on track 7, and noticed that there was an InterCity train taking on passengers there. I thought back to last year, and remembered that it wasn't unusual for the trains to be put on a different track. They make muffled announcements that you can't make out even if you speak Italian.
I walked quickly down our track to the other, and saw from the sign above track 7 that it was the train to Pisa. I motioned for everyone to hurry up and run over to the other track.
We found the first class car, and located a private compartment that only had one person sitting in there. We asked the woman inside if we could sit with her. She invited us in.
The train left the station, and it looked like everything was going our way. Then it stopped at the first stop, and a woman walked up to our compartment and looked at us.
We looked back at her. Then she said in a very meek voice. "Reservato".
I had a pretty good idea of what "Reservato" meant, but this compartment wasn't marked reserved, so I figured she must be mistaken. We sat and stared back at her like a bunch of foreigners that didn't understand.
"Reservato", she said again in a shy voice. We just looked back with eyes that said, "Non parlo Italiano". But, we didn't really say the words, because then she would know that we weren't just confused Americans. We really were hoping she would go away.
She went away. But, came back with a conductor. He looked at us and said, "Reservato!", and said a bunch of stuff in Italian, that probably meant, "kindly move your rear ends out of these reserved seats".
All five of us got up at once. The woman looked horrified, and said, "Oh no! Una Familia!". I felt bad because she was so apologetic. The conductor found seats for Me, Jane and Casey, but Erin and Luis ended up having to sit in the hallway, which meant having to get up every time someone passed by.
I asked Jane if she minded if I went with Erin and Luis to see if I could find a compartment down the train a bit that had room for the rest of us to sit. She said she was fine with it. I told her that we would just get off the train at Pisa and meet up outside the train.
Off we ventured from the first class compartment to the mysterious world of second class.
The nice thing about the IC train is that second class isn't really much different than first class. The compartments are still private with a glass door. But, the seats are a different color, and there isn't a paper towel thing to lay your head against. Other than that, it's pretty much identical.
We found a compartment that had an older woman sitting alone. We asked if we could join her, and she accepted. "Grazie" we said. "Prego" she answered. Then she did her best to ignore us, as we chatted away in English.
A while later, the train was slowing down, and our mystery woman started to gather her things. We all kind of lit up at the prospect of having the compartment to ourselves. She left, and we closed not only the glass door, but pulled the curtain.
Then, Erin remembered that the seats slide forward, and if you do that to two facing seats they almost make a bed. So, we put all six seats that way and made three areas to lay down. What a great way to travel. When the train would stop, and people would walk down the corridor, we would sit wondering if someone would crash through the curtain, but nobody ever did. We rode the rest of the way to Pisa lying in what amounted to this big moving bed.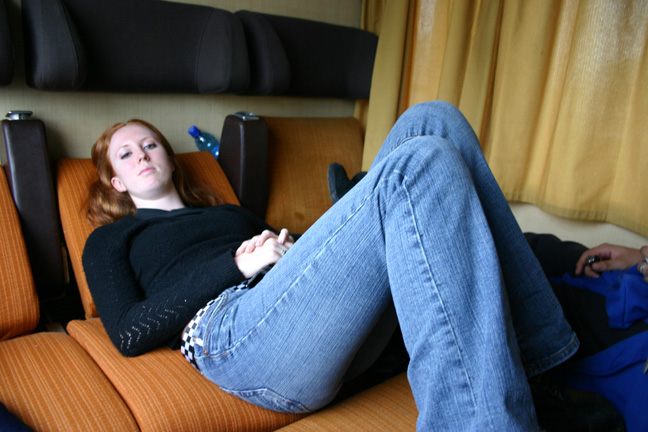 Erin rides in style on the train from Rome to Pisa
As we laid there, I told Erin and Luis about reading on a travel blog about people who go to Europe with a Eurail Pass, and when they can't find a place to sleep for the night, they just jump on one of these trains and spend the night just like this. It was amazingly comfortable and fun.
I could have stayed on that train the rest of the day, but we eventually did get to Pisa, and put the compartment back together. We exited the train and rejoined Jane and Casey outside. Then we headed out of the Pisa Centrale train station into the Tuscan town of Pisa.
There is a real difference when you get out of Rome into a town like Pisa. Rome is one of the greatest towns on the planet, but clean, it isn't. Pisa is clean.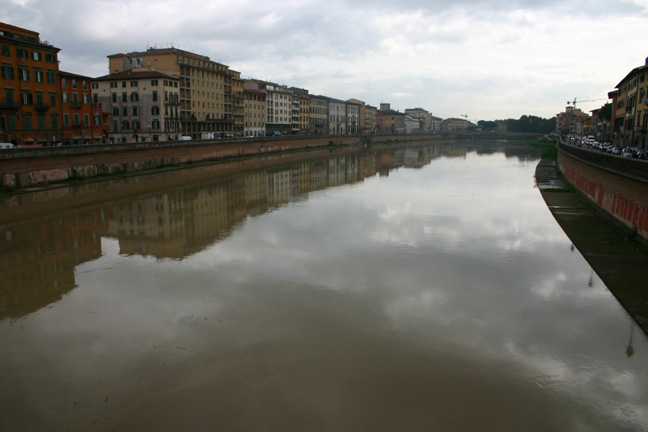 Shot standing on a bridge in Pisa
We really missed our Cappuccino in our morning rush, so we found a bar with tables out on the sidewalk and ordered coffee for the big guys, and a cioccolata calda (hot chocolate) for Casey.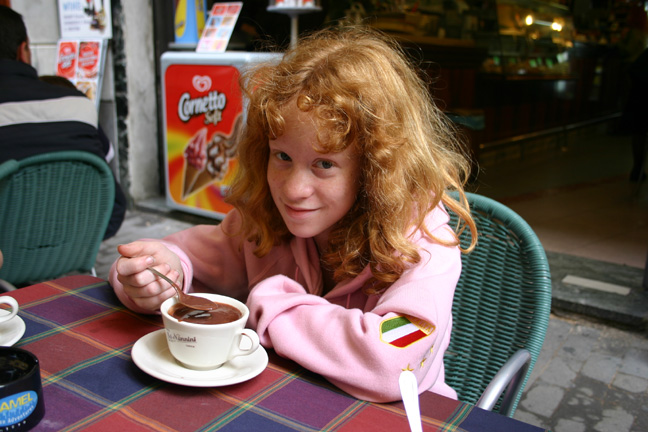 Casey enjoys a hot chocolate in Pisa. This is made with steamed milk and is thick like pudding
The cappuccino was so good we had a second round. When we were done, we continued through Pisa toward it's most famous location.
The drinks at the bar ended up costing quite a bit, and I wasn't sure if you had to pay cash to climb the tower. So, we stopped at a Bancomat to recharge the wallet with some fresh Euros.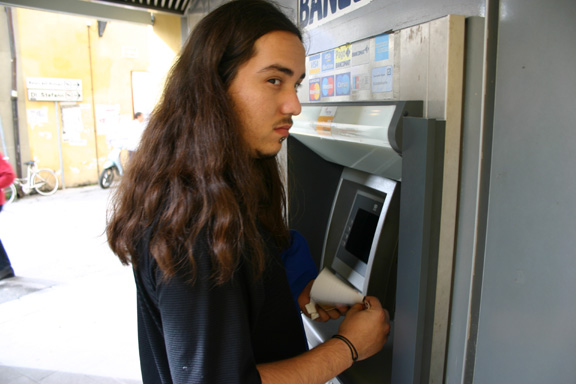 Luis protects his PIN at the Bancomat in Pisa
We continued up the street and came to a wonderful pastry shop that we visited last year. We all picked something from the case. I was thinking about "The Godfather", and the scene where the hit man is told, "leave the gun, take the canolli". So, I asked for "uno canolli". We continued down the street stuffing our faces with an assortment of delicious pastry.
Soon we rounded a corner, and got our first look at the leaning tower of Pisa.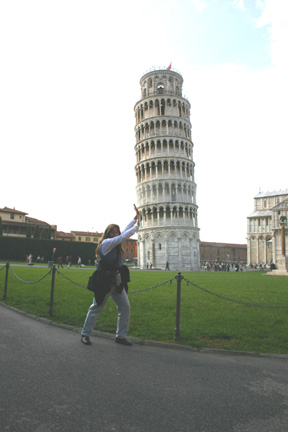 Jane straightens the Leaning Tower of Pisa
I went in to the ticket office and asked for "Cinque biglietti por la torre". They turned out that they do accept credit cards. They don't allow things like backpacks, but they provide free lockers next door to the ticket office. So, we offloaded all of our extra stuff like our jackets, since it wasn't raining for a change, and waited to go up.
I climbed the tower last year, and if I got back to Pisa a hundred more times, I'll probably climb it every time. It's just a fun thing to do.
Inside is a narrow marble staircase that goes in circles. As you walk along the side that leans to the outside, you start to lean that way. It almost feels like you are drunk, because from inside you can't see what position the building is in. It is hard work getting to the top, but with stops for rest, even older people could accomplish it.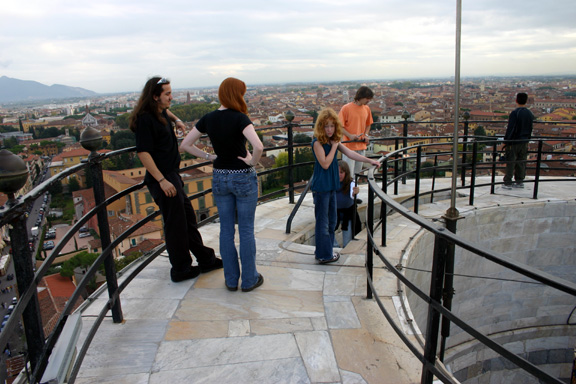 At the top of the Leaning Tower of Pisa. Luis, Erin, Casey and Jane
Video: Leaning Tower of Pisa (3 Min. 6 Sec.)
Jane takes you along as she climbs the famous tower.
After spending some time at the top, we walked back down the marble staircase and started walking out of town.
The year before a friend met us in Pisa and walked us out toward the north side of town to a smaller train station. We were determined to find that station and revisit the charming town of Lucca.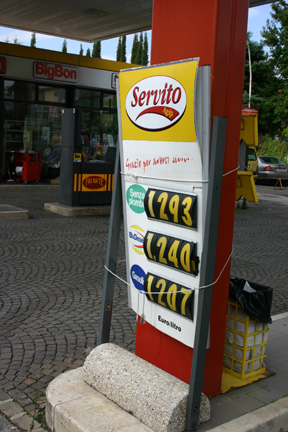 On the way out of Pisa we walked by a local gas station.
1.293 Euros per Liter roughly translates into $6.00 per gallon.
We found the smaller train station and went to look at the schedule. It looked like a train to Lucca was leaving in the next few minutes from track #2. So we hurried over there. A train came and we started to board, but then Jane stopped and asked a man if the train was going to Lucca, and he said it was going to Florence. So, we didn't get on.
I was very confused, because the schedule had said something different. I used the underpass, walking down stairs and back up again, to go look at the schedule again.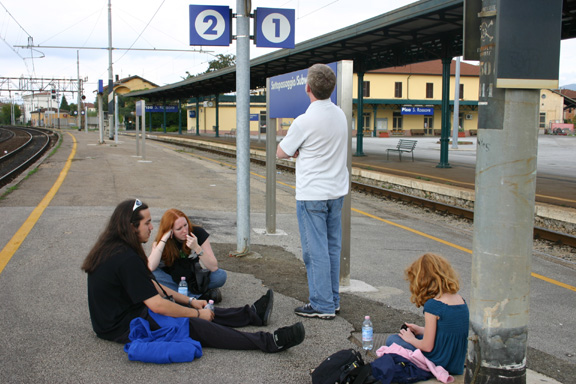 Confusion on track two at the Pisa S. Rossore train station
While I was over looking at the schedule, a train came to another track. I heard an announcement in Italian that it was going to Lucca. But, everyone else was back at track 2. I looked again at the schedule, and it didn't show a train to Lucca on the track the train was on.
I went back and told everyone I was totally confused, and had no idea what was going on. But, it looked like there should be a train to Lucca on track 2, and it must be late or something.
We waited more. There was a video screen, and it didn't show a train to Lucca any time soon on that track. Again, I used the underpass to go across and see the schedule, but this time Jane came with me. While she was looking at the schedule, I walked over and saw another schedule about ten feet away. It said on the top in big letters "Pisa S. Rossore". I looked at the other schedule that I had been studying before, and it said "Pisa Centrale".
I had been looking at a schedule for the wrong train station, which is why nothing was adding up. We looked at the right schedule and saw that a train was coming to another track right away. So we got everyone to come over and stood by track 2A.
A small train showed up, and we still weren't sure it was right, but by this time we were tired of sitting around Pisa S. Rossore, and we just got on.
It was a small commuter train, and there weren't five seats together. We ended up in an area outside the seating space that had room for us to stand and one or two fold down seats.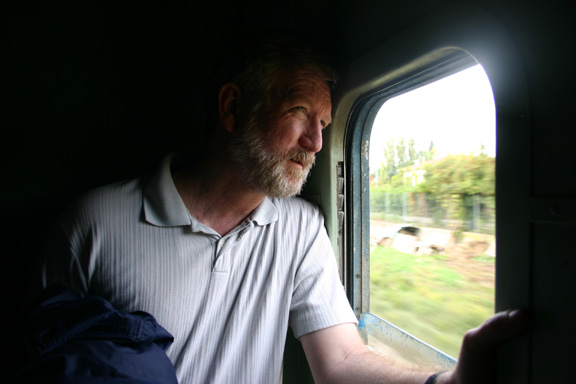 Erin took this picture of me standing on a small commuter train from Pisa to Lucca.
The beauty of the Eurail Pass is you can get on virtually any train. It doesn't guarantee a seat, but sometimes that is part of the adventure.
We arrived in no time flat. Lucca is a beautiful little town, probably not well known by American tourists. We walked through the narrow streets toward an old Roman arena that now has shops built around it making a perfect circle.
On the way, Jane bought a bag of chestnuts from a person roasting them on the street. I've never had them before. They were quite tasty. We stopped at a candy stand and bought several types of local candy to try. Then we found a place to have a long overdue lunch.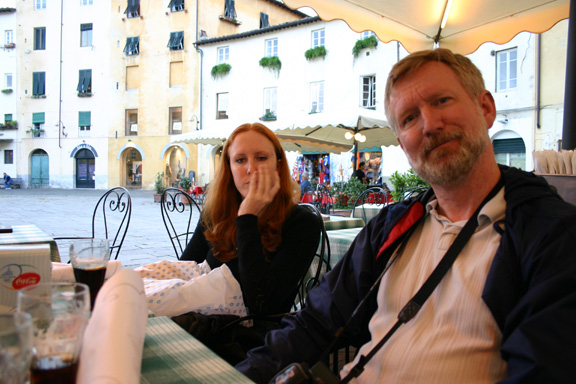 Erin and Joseph waiting for lunch in Lucca.
During lunch we had fun feeding a flock of pigeons that adopted us. I tried a ham and cheese calzone. It was massive. When it came my eyes got huge, and the waitress thought there was something wrong with it.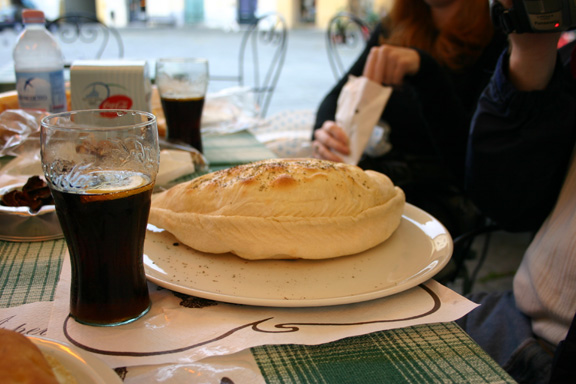 The massive calzone I was served in Lucca. It was mostly air. A very thin crust, puffed up. Inside was ham and cheese.
When we finished lunch it was getting very cloudy, and looked like it was going to start pouring rain on us at any minute. We quickly visited the shops and headed back to the train station for the long trip back to Rome.
Video: Lucca (2 Min. 6 Sec.)
We visit the charming Tuscan town of Lucca.
From Lucca, we had to take a train to Florence. We ended up on another commuter train, but this one had seats. In fact, for most of the ride we had the entire car to ourselves.
Jane said to me, "You haven't recorded enough Lap Cams on this trip". A "Lap Cam" is a thing I invented to do while bored waiting in places like airports. I turn put the video camera in my lap and point it up at myself and talk about what's going on at the moment. I recorded a lap cam saying that I hadn't recorded enough lap cams.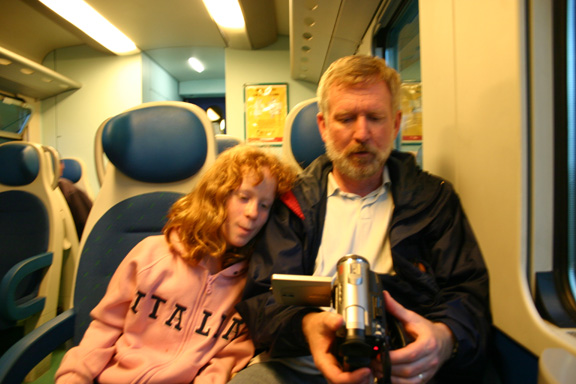 Casey and Joseph recording a "Lap Cam" segment of the family trip video
It was dark when we got to Florence, and it had been a very long day. We still had a few hours ahead of us before we arrived back in Rome. We went inside the train station, and Jane saw a train going to Naples that said it stopped in Rome. We found the track and got right on.
This time we found a private compartment in first class with nobody else in it. We closed the door and settled in for the long ride back. Then, an announcement was made in Italian where they went over the stops the train would make. I didn't hear them say "Roma Termini", and got worried. Jane asked the conductor if the train went to Rome. It did, but NOT to Termini!
I started to panic for a moment. It was already getting late and I didn't relish the idea of being lost in Rome in the middle of the night. Jane asked the conductor if there was an easy way to get from the station in Rome to Termini, an he said, "Taxi, Metropolitan…". That was all I needed to hear. We could take the metro to Vittorio and we would be back at hour home away from home.
We had a good time in our compartment on the way back. It got hot, so I opened the top window, and it got very loud. Then we went into a tunnel, and the pressure change sucked the window shut. I caught it on video. We all cheered when it happened.
When we arrived at the mystery station in Rome, they had a metro stop right there. We got on the line and took it to Termini to transfer over to the line that goes to Vittorio. Of course, when we got there, that line was closed again. We caught a cab big enough for cinque personas, and finally arrived back at the apartment.
Video: Return to Rome (2 Min. 6 Sec.)
We take the long train back to Rome thru Florence. We get stir crazy on the train waiting for the window to get sucked shut by changes in air pressure caused by entering a tunnel. Note the increased coughing.
NEXT…We return to Saint Peters, visit the Circus Maximus and Palantine Hill!
But first….
A shot of the gang around one of the bells at the top of the Leaning Tower of Pisa: