The Decision to Go Again So Soon
My wife, Jane, lived in Europe for a few years while she was a Christian missionary. I met her in 1979. From the moment we met, she wanted to take me to Europe. I resisted. My own parents never ventured outside North America, and I didnít understand what the big deal was about.
Finally, in October 2004, 26 years after I first met her, Jane dragged me kicking and screaming to Europe. Two of our three children are already grown, and we felt we owed the trip to all the kids. So, we saved for six years, $50.00 per week, and ended up with enough money in the bank (along with a tax return or two) to take all five of us on the trip of a lifetime. That trip can be read about here.
About six months after returning, we were still talking about what a great time we had, and how we wanted to go back. After a lot of going back and forth, we figured out that if we went for a shorter time, made the older kids pay their own way if they wanted to go, and learned from our past mistakes, we could afford to go again in October 2005.
Financing the Trip
I developed an Excel spreadsheet from our last trip detailing all expenses. We used the data from this sheet to forecast the coast of the trip being planned. We are banking on the idea that we will not make several costly mistakes from our last excursion, and that we will hopefully end up with a surplus. But, it is still an educated guess at best.
We continued to make the $50.00 per week automatic deposits into our vacation account during and after the last trip that started to add up again. We decided to put our federal and state income tax returns into the account as well.
We contacted our two grown children, Christian (our 26 year-old son) and Erin (Our 20 year-old daughter). Both had moved away from our home shortly after we returned from our last trip to Europe. Christian moved all the way across the country to Baltimore, Maryland. Erin is now sharing an apartment nearby with her friend Luis.
Christian, having just relocated felt that it would not be a good time for him to take off to Europe again. So, he decided he would not be going with us on the trip this time.
Erin and Luis decided they wanted to go and made an agreement with us to each give us monthly checks until the trip that we would bank and use toward trip expenses.
How to Get there
The last time we flew into Paris, and took the night train to Rome. We thought we could save money by flying directly to Rome this time, but Air Tahiti Nui was still offering deep discounts to Paris. The difference in cost for five tickets was approximately $2500.00. So, we decided to go back via Paris again. The flights were $424.00 round trip, non-stop from LAX before taxes and fees, from Travelocity. Taxes, fees, delivery charges, etc, brought them up to just around $600.00 out the door. This was much cheaper than flights from the east coast into Paris, and itís hard to see any logic in that. My guess is that this airline is only stopping over in Los Angeles to gas up between Tahiti and Paris and if they can pick up a few Americans on the way, itís just frosting on the cake. Our last flight on this airline was a pleasant surprise, even in coach, 2-4-2 seating, with constant food and drinks during the entire flight, not to mention a personal entertainment system at every seat.
After booking the airline tickets, we again purchased trip insurance with Travelguard. On the last trip we had an unpleasant surprise when a dishonest travel agent took our money and did not make the reservations. Travelguard stood behind us, offering us any kind of help we needed when we became stranded. The cost of the insurance was $61.40 per person. I canít stress enough how important this is to purchase this very affordable insurance for a trip like this. Not only will it reimburse you if your trip is cancelled for covered reasons, it also has provisions for medical emergencies, lost luggage, delays, etc.
Where to Stay?
I have been a member of Hilton Honors for many years. I never could figure out how to redeem points, so Iíve accumulated over a quarter of a million in my account! At first we planned to go back to the hotel we stayed at on our first trip, The Comfort Hotel CDG. While we adored the town it was located in, Les Mesnil Amerlot, the hotel itself was very low quality.
I went on the Hilton website and figured out how to redeem my points for rooms in Paris. On arrival, we will take the RER train from the CDG Airport to Paris and stay at the Hilton Paris near the Eiffel Tower. On return, we will stay at the Hilton Paris CDG Airport so we can easily get to our flight in the morning. We booked two rooms for each night, for a (hundred) grand total of 100,000 points. In cash this saved us about $500.00 over the cost of the Comfort Hotel. If we were going to pay for these Hilton rooms in cash, the cost would have been around $700.00.
We decided that Rome would be our primary city. While in Rome in 2004, we had found a very affordable apartment between the Termini Train Station and the Coliseum. It had its own metro stop for easy access to the entire city, and a friendly bar directly under it where we could get cappuccino and croissants in the morning for breakfast. We contacted RentalInRome.com, and booked the same apartment at the same price as last year, 130.00 Euros per night. Compared to staying in two hotel rooms, the savings is significant. The apartment comes with enough beds for all of us, a bathroom, kitchen, television, and most other comforts of home. It also gives us an opportunity to stay in a neighborhood rather than with other tourists.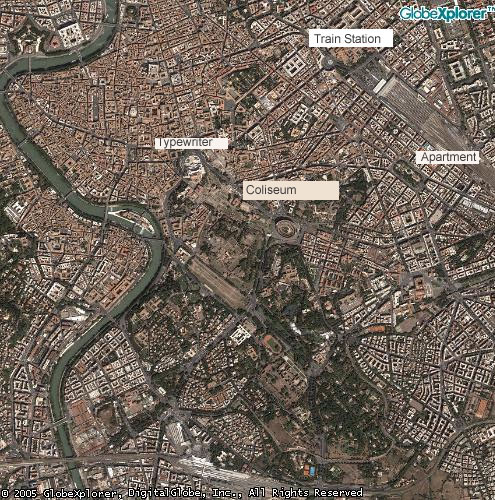 An aerial photo of Rome. The rectangle by the Apartment is Piazza Vittorio.
The place marked ďTypewriterĒ is the Monument to Vittorio Emanuel.
Basic Itinerary
The way it worked out, we would fly out from LAX on October 15. Land in Paris on October 16. Spend the night in Paris, and on October 17, take the night train to Rome arriving on October 18. Spend five nights in Rome, and then on October 23, take then night train back to Paris, arriving on October 24. Spend that night in Paris, and fly back to Los Angeles on October 25.
Getting Around France and Italy
For train travel in Europe, we purchased Eurail Passes from RailEuope.com. We were able to save money by getting the France 'n Italy Pass. This provides for four days of unlimited train travel in France and Italy, we qualified for the "saver" option that includes a discount for a group of 2-5 people. The rail passes were $269.00 for each adult, and $134.50 for our youngest daughter Casey, who will be 11 at the time of the trip.
We planned to take the night train both ways between Paris and Rome. The sleeper cars are costly compared to taking a discount airline such as RyanAir inside Europe. But, we all wanted to take the train. For the five of us we booked one T2 Two Bed Sleeper, and one T3 Bed Sleeper. The total cost round trip for the night train was $820.00, or $164.00 per person. This includes the discount fare for Casey being 11 years old at the time of travel (12 and up pay adult fare).
Communications
Itís all about being connected today. Last time I didnít take my laptop, and Iím glad about that. Iíd never want to lug it around just for internet access. Access to the net is cheap in Europe. Often 1 Euro per hour.
Last time I rented a cell phone from my carrier, Nextel. It cost about $100 to rent the phone, and I was able to put my sim chip from my regular phone into the rental and it functioned like my phone, right up to and including ringing from US cell phone number.
It was convenient, but costly. I lurked around the internet to find out what other people do. The suggestion I saw several times was to buy a Europe compatible (GSM) unlocked phone off Ebay, and simply purchase a local sim card from a vendor in the cities we planned on visiting.
I was able to find a lot of phones being sold, and won an auction on a Motorola P280 Unlocked GSM 900/1800/1900 World phone for $44.95.
Apparently, if I want to, I can still stick my Nextel sim in this phone and use it in Europe and receive inbound calls to my US cell phone number. Or, I can find cheap sim cards locally and enjoy local rates.
I also learned later, that Erinís phone is GSM compatible, and all we had to do was ask her carrier, T-Mobile, to turn on International calling. So, we will have two cell phones in Europe in case I get lost on the RER again.
Ch-Ch-Ch-Changes!
Recently, I received an email from Travelocity, and I almost deleted it thinking it was spam. But, then I noticed the subject:

"Subject: Important! Your Paris de Gaulle, France trip booked on Travelocity.com has been changed"

Changed? The email went on to thank me for using Travelocity and had a bunch of generic stuff, not really saying what the change was. Then at the very bottom:

"Your Itinerary is:

TN22 15OCT DEPARTS LOS ANGELES AT 1230P ARRIVES PARIS DE GAULLE AT 825A
TN21 26OCT DEPARTS PARIS DE GAULLE AT 1130A ARRIVES LOS ANGELES AT 220P?

At first I didn't see it, but then I realized that our return was supposed to be 25OCT, not 26OCT.

I called Travelocity to ask why the change was made. They said that the airline had cancelled the flight.

I called Air Tahiti Nui, and they confirmed that the flight had been cancelled. I explained that we were five people, and that it takes two hotel rooms a night, and that this would add considerable extra expense to our trip.

The agent said that they normally offer to put people on the flight the day before, but that flight was already full.

I asked if they could compensate us for the extra expense, and she flatly refused. I asked if they would consider upgrading us from coach. She also flatly refused. I asked if I could speak to a supervisor, and in what seems to be a typical response these days, she claimed to be a supervisor.

She did offer to cancel our flights and refund 100% of what we had paid. However, this flight is one of the few non-stops from LAX-CDG, and the price was the lowest I could find at the time.

I asked what other recourse I had, and she said I could write a letter to
the company, which I did. A few days later, I received a call from the corporate office. I was offered an explanation that with the rising fuel costs, Air Tahiti Nui was expecting a loss of $20 million dollars. They were forced to consolidate flights to minimize these loses.
I still don't think that their savings should be made at my expense, but my other choice is to get a full refund, and rebook on another airline. Air France has flights on my original dates, but the five tickets would cost us almost $1700.00 more than the ones we already have.

I called my trip insurance company, Travelguard to see if I could file a claim for the additional expense. They said "no", that carrier cancellations are not covered.

It is hard to get terribly upset about having one extra day in Paris. We are being given a lot of notice to adjust our plans. I'm happy that we didn't find out about it upon arriving at the airport, which has happened to us before on a flight from LAX to Houston, Texas (and all four of us were upgraded to 1st class).

It would be nice if somebody involved (other than me) would make some kind of gesture. I even called Hilton Honors, since our room at the CDG airport was being paid for by points. They didn't have any nights available for the second night on points, and wouldn't move it around. I ended up doing a points stay at the Hilton Arc de Triomphe for the night of the 24th, and then paying for the final night at the Hilton CDG, which was something of a bargain at 99 Euros per night per room (prepaid Internet deal).

Pre-Purchased Tickets and Tours
On our last trip, we saved a lot of time by pre-purchasing tickets for certain attractions. Usually, these arrangements include the ability to cut in front of the line and walk right in.
This time around we pre-purchased tickets for the following:
The Louve: The official website has a link to buy tickets online. The page says:
"To avoid waiting in line, you can buy your ticket in advance online. Tickets are valid every day except Tuesdays (when the museum is closed) and certain public holidays. Advance tickets cannot be picked up at the museum."
We paid $10.81 per ticket, and we can use them any day until the end of the year.
The Coliseum: Another place with long lines. We paid $11.50 per ticket. These tickets can be used for a specific date only, but are good for the entire day. These tickets were purchased via the Ticketclic.it website.
Nero's Golden House: aka Domus Aurea. These tickets were $10.00 each, and include a guided tour. They are only good for a specific date and time. We purchased them via the Ticketclic.it website.
Walk-ups
There were some things that we paid in advance for the last time around, that we decided to walk up to this time. In these cases, we felt that there wasn't an advantage to getting advance reservations, or that there might be more or better choices on site. For example:
Point to Point Train Tickets: The last time, we paid for reservations for most of our major train trips in advance using RailEuope.com. Eurail passes must be purchased in advance. But, we found that normal trips between cities are cheaper to book locally. In most cases, if we just showed up at the train station there were trains leaving to the city we wanted to visit every half hour to hour. If we wanted to book a high speed train, we would try to go to the station the night before and make an upgrade reservation. The exception this year was the night train between Rome and Paris. We wanted to make sure we could get sleeping compartments for the five of us, so those accommodations were booked with RailEuope.com in advance.
The Vatican: Unless you want a guided or private tour, you can't get tickets in advance. The last time, we felt the tour was rushed and we could barely understand the tour guide. This time we plan to just wait in the line and walk through at our own pace.
The Leaning Tour of Pisa: We found a website where you could pre-purchase tickets, but the last time we just walked up and bought tickets. It wasn't difficult at all.
Pompeii: It was no problem last year just walking up to the ticket counter. According to the official website, a ticket to Pompeii costs 10.00 Euros, but if one pays 18.00 Euros, that ticket includes admission to Herculaneum, Pompeii, Oplontis, Stabiae, Boscoreale and is valid for 3 days. The last time we hired a private driver, but this time we will take a train out of the Naples station called Circumvesuviana.
Disneyland Paris: It was possible to purchase the tickets in advance, but there was no discount, or other incentive to do so. Some of the tickets offered online are for only one specific day, which is hard to make any sense of. If you had a change in plans and wanted to go the next day, you would be out of luck.