We flew from Los Angeles to Rome starting on a Thursday, landing on Friday night. Exhausted, we checked into the Rome Airport Hilton, taking advantage of my Hilton Honors points to get a free room on the Executive floor.
At 6:00am our wake-up call came in and we packed up and went to the executive lounge for our free breakfast. The lounge was closed, but there was a notice saying we could go down to the restaurant and ask to be seated in the Chef's Corner.
We ended up being the only people in the Chef's Corner, which seemed a bit odd. The waitress was very attentive and offered us either an American or Continental breakfast, and explained that it would not be free. Jane and I both picked Continental, and were brought an assortment of pastries. I also had some sort of cereal that resembled dry cat food, little brown x's of what I assumed where a wheat product.
In the weeks before we left L.A., I learned that I have a problem with high blood sugar. Type II Diabetes runs in my family. I was advised by my Doctor to watch my diet, so the wheat cereal with no sugar seemed like a pretty good choice. Actually, being in Italy while trying to watch sugar and carbs was going to be difficult, but I decided that when I could make a healthier choice, I would.
When we finished we went back to the room to get our bags and checked out of the hotel. The only charge was for dinner. When I mentioned that we also had breakfast, the said it was free with the upgrade.
We left the Hilton and started rolling our bags back toward the airport. About half way was a turn-off toward the train station. When we arrived there, we bought two tickets for the Leonardo Express, a train that runs non-stop between the airport and Termini Train Station in Rome. The cost was €11,00 each (about $14.00) for the one-way tickets.
The Leonardo Express is fast and clean. It makes no stops between the airport and Termini. Jane and I were the only people in the entire car. It was exciting to know that we would be in he heart of Rome in about 35 minutes.
Video: The Leonardo Express!
(Press Play to Start or click HERE if Video doesn't start)
When we arrived at Termini Station, it was our first familiar sight. I remember being here the first time in 2004, and it all seemed so busy and kind of frightening. Now, it was kind of like home. We went over and bought our tickets for the public transportation, good for a week, that include the Metro (subway), bus and trolleys. The tickets cost €16,00 each (about $21.00) and are for unlimited use, definitely a bargain for getting around Rome.
From there we followed the red "M" to the underground and took the Metro only one stop to Piazza Vittorio, coming up on Via Principe Eugenio, and only a short walk to the front door of the Apartment we had rented.
We found the apartment back in 2004 on our first trip to Europe as a Family. Hotel rooms in Italy are normally cramped with two people, and five would be out of the question. For a group that size, two hotel rooms per night would be required, and rooms we looked at in Rome cost €150,00 and up. Spending around $400.00 American dollars a night would have been way out of our travel budget, so we looked for alternatives. The agency we used has a website called RentalInRome.com.
We liked the Apartment so much that we rented it again in 2005 with five of us traveling. However, during that trip we noticed that the area was quickly becoming less Italian and more inhabited by Korean immigrants. At the end of that trip we decided that when we came to Rome again, we would try something different, perhaps a few streets over on Via Merulana where we had strolled while doing laundry.
When the time came to plan this trip, we looked over many properties online, and finally changed our mind to stick with what we knew. With only two people this year, the cost was only €85,00 per night, or about $110.00. For this we had what would equate to a fantastic suite in the hotel room. It has a large living room, dining room, kitchen, private bathroom and bedroom. When staying in an apartment as opposed to a hotel, one gives up daily maid service, and access to a front desk for things like wake up calls. One also doesn't have an option for room service or in-house restaurants. However, you are in a neighborhood, and we knew this neighborhood and where to eat and shop.
Walking down Via Principe Eugenio, I glanced toward Piazza Vittorio and remembered only two months before, when Jane emailed me at work to tell me she had seen an item on Yahoo News saying that there had been a Metro accident there. The web was full of images of this neighborhood packed with emergency vehicles and injured Metro riders. The accident happened when one train smashed into another killing one person and injuring 145 others.
I thought about how one of my very favorite things about this neighborhood was that it seemed to be completely undiscovered by Americans. It's not that I hate Americans, I am one. But, when I sit that long on an airplane, I prefer not to have to look at, or hear other Americans again until I get my passport stamped in customs when I return back home. Piazza Vittorio is that kind of place. Even the Koreans who live there speak to you in Italian.
Walking up to our building, I noticed that the Lulu Bar was still in business on the ground floor. In 2004, it was our favorite place to get Cappuccino in the morning. When we returned in 2005, we found that a new Korean owner had replaced our beloved Luigi. Glancing inside it appeared that the Italians had not reclaimed the Lulu Bar. I mentioned to Jane that when we went out for breakfast this year, I would prefer to walk to the other side of the Piazza and get it from one of the Italian owned Bars instead.
We arrived at the security door of the Apartment about a half hour early, so we decided to wait there on the street with our luggage. About fifteen minutes before, Jane asked if we should try to call our contact, Miss Cristina, on her cell phone to see if she would be on time. Just as I pulled out my phone, I heard a friendly "Ciao!!". It was Miss Cristina apparently very happy to see us for the third year in a row, talking a mile a minute in Italian.
Jane lived in Rome back in the late 70's and speaks some Italian. I am limited to key phrases and pantomime skills I learned as a Theatre major at Los Angeles City College at the same time that Jane was in Rome learning Italian. Luckily, Jane took over and they chatted as we went inside.
Everything was the same as it had been in prior years. The very nice entry area with a white marble floor gave way to a few steps to the lift (elevator). We asked Miss Cristina to remind us of what floor the apartment was on. It was number three, which would be number four in the US, but in Europe, they count the first floor as zero.
The apartment has a doorbell on the outside with the name "Otto" written under it. For some reason, the first time I stayed there, I imagined that someone named "Otto" must own the place. Perhaps the Otto's were a couple from Germany who only came to Rome on business. After listening to my Travel Italian CD's between the first and second year, I leaned that "Otto" wasn't a name it was the number. Otto=Eight. So, here we were back at Apartment 8.
Inside it was exactly as we had left it the year before. Jane told Miss Cristina that we felt like we had just arrived home. She then gave her a gift of one of her hand crafted gourds. Miss Cristina was so excited to receive it, she grabbed Jane and kissed her on both cheeks, telling her that she still had the one she was given last year at her home. Then she quickly walked us through the basics of how things worked in the Apartment. Nothing had changed. As quickly as she arrived, Miss Cristina left, and Jane and I were alone for the first time as a couple in 26 years.
At first it seemed very strange to be in this place without the kids. Normally, the older kids had the living room, and we shared the bedroom with Casey who slept on a chair that folds out into a bed. This time we had the entire place to ourselves and it felt massive.
We decided that the first thing to do was go get a few supplies at the local supermarket, located across the street, and just a short walk down Via Princepe Eugenio. We purchased some butter, half a dozen eggs, a liter of milk, a loaf of wonderful crusty bread from the bakery section, bottled water, a large bottle of wine and some provolone cheese.
I was on the lookout for something that our older daughter, Erin had a hard time finding back home, Parmesan Reggiano widely described by connoisseurs as the king of cheeses. Erin became aware of this cheese when she wanted to cook authentic Fettuccini Alfredo at home a few months ago. We couldn't find it at any store we looked at. Finally, we went to a health food store called "Whole Foods" in Glendale, and bought a tiny piece of the cheese for about $15.00.
I came around a corner near the meat section and suddenly, there was a pyramid of unopened cheese wheels stamped Parmesan Reggiano! At the top there were chunks cut up into approximate 1 kilo pieces, and wrapped. The price? Less than € 8,00, or $10.00. I bought two of them (one for us and one for Erin), and let's just say that they were not consumed in Italy.
Video: At the Apartment
(Press Play to Start or click HERE if Video doesn't start)
After eating our fill of bread, wine and cheese we set out to do a bit of sight seeing. In our prior two visits to this neighborhood, we had never gotten around to visiting a major attraction within a very short walking distance. This time we decided to make it our first stop.
The Basilica di Santa Maria Maggiore is only a few blocks from the apartment. We were not disappointed after making the short hike to this ancient church, considered one of the four major Basilica's of Rome. The church is said to house a piece of the crib from the nativity of Jesus. It is contains the grave of Bernini.
The church was built in the year 360 AD, and is the only Roman Basilica that has retained the core of its original structure.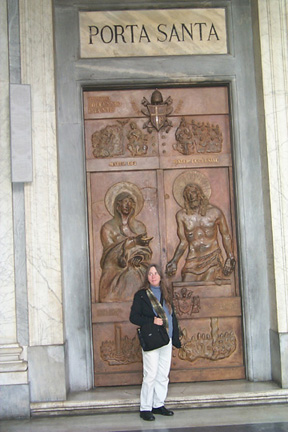 Jane at the Holy Door at
The Basilica di Santa Maria Maggiore
Video: Inside The Basilica di Santa Maria Maggiore
(Press Play to Start or click HERE if Video doesn't start)
Next, we went to The Basilica of St. John Lateran, which is another of the four major Basilicas in Rome and is considered the Mother Church among Catholics. It ranks above all others in the Catholic Church, including Saint Peter's Basilica in the Vatican.
Walking up to the Basilica there were several outdoor booths selling items. I had forgotten my windbreaker jacket on the Leonardo Express, and only had a sweater to wear. Jane bought me a new jacket from a vendor that had a hood, and was much warmer than my old blue and red that I had worn twice before, and finally lost in Rome.
Outside the church is an Egyptian obelisk that was built by Pharaoh Thutmose III sometime around 1425 BC.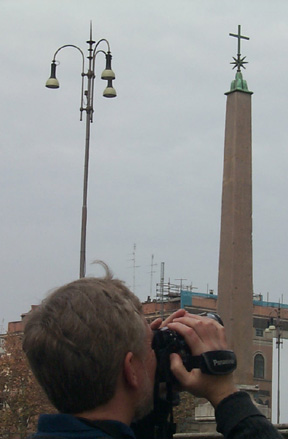 Joseph taking a video of a 3500 year old Egyptian Obelisk
In front of the Basilica of St. John Lateran
This church has too many features to even start to list. One that stuck in my mind included the ancient bronze doors taken from the Curia building in the Roman Forum, which was the first Roman Senate house, created around 44 BC.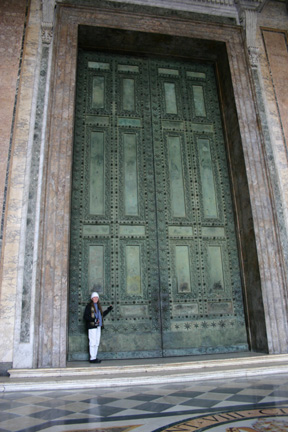 Jane standing in front of the 2000 year old doors to
the Roman Curia, now relocated at the
Basilica of St. John Lateran
We also saw Roman columns covered in gold
Next to the church we saw The Holy Steps, complete with people climbing them on their knees. These steps are believed to have been brought to Rome by Saint Helena, the mother of Constantine in 334 AD. They are believed to be the actual steps that Jesus climbed on the day he was sentenced to death by Pilate.
Walking along afterward, we noticed the Basilica di San Clemente. Inside we found an underground tour where we were able to view items recovered in an excavation under the church. This was the first of a number of churches where we found this kind of tour available.
After all this walking, we were starting to get hungry. We headed back to the apartment and got ready to go to our favorite restaurant in Rome. It is nothing fancy, but Il Padellaccio 2 is located within walking distance of the apartment on Viale Manzoni just off Via Princepe Eugenio. The food is always good, and the service is excellent. A year ago, one of the men working there had been especially kind to our youngest daughter, Casey. We took a picture of them together and promised to send it to him. We never did, so to make up for it, we brought a copy of the picture with us to give to him.
At around 5:00pm, we headed over. On the way there, I worried that perhaps the place had closed down, or maybe had been taken over by Koreans. As we came around the corner, my heart sank. It appeared to be dark, with no tables set up outside. We walked closer, just to find out that they were not open until 7:00pm. We walked back to the apartment and rested for two hours, then headed back down the street.
When we came into the Restaurante Pizzeria (as they call themselves), we were delighted to see the same people working there from before. Each of them looked at us for a moment, like they weren't sure if they knew us or not. We didn't say anything and just let them seat us. The waiter asked what language we would like the menu in, and I said, Inglesi, Per Favore (English Please).
Jane asked the waiter to request that the man at the register come to the table. His eyes got big as if to wonder what terrible thing his co-worker might have done. The gentleman came over, and Jane produced a manila folder. He looked as if he were about to burst with curiosity. She produced the following photo: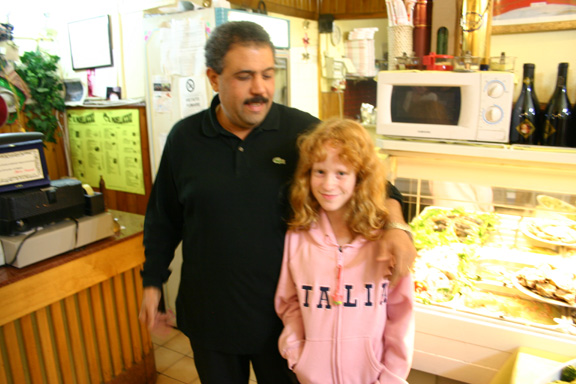 Casey and Selah, her favorite Waiter in 2005. We gave this photo to him on our return in 2006
When he saw the photo, he lit up. He was so excited. He remembered Casey because of her red hair, and also remembered us. They hadn't recognized us without the kids. On all of our trips to Rome, we had eaten most of our dinners at their restaurant, and they were happy to see us return. This night and every other one we were treated like VIP's.
This restaurant has an extensive menu including seafood, but what I like best there is the Pizza Marinara. I've gotten to where I can't enjoy pizza in the US, because this particular pizza is my absolute favorite. The pizza has ultra thin crust, a thin layer of sauce, fresh herbs and slivers of garlic. You know what I ordered. Jane had the same. For an appetizer, I had fried crab, which is a crab claw with the pinchers still on, but the shell behind it removed and breaded. Jane had fried zucchini flowers both were delicious. We also drank a liter of red house wine.
After dinner, we crossed the street, which is an event in itself in Rome given the lack of concern by both pedestrians and motorists for traffic signals. Then, we went by our favorite Gellateria (Italy's Baskin Robbins). I always order the Riso, which is like a rice pudding ice cream, featuring actual pieces of rice.
It was a long day, and we got a lot in. We went back to the apartment and went to sleep.
NEXT: Sunday in Rome. A lot of stuff is closed, but we continue to find obscure things to see that we missed the first two times around. We have our creepiest experience ever on the European continent!
But first: A photo of mi amore, Jane at the gates of Rome on her honeymoon that was 26 years in the making: