Day four of our trip to Rome started out with laundry. We bring only a fraction of the clothes we will need on a trip like this and then find a place to wash them. For a week we took enough so we only had to do laundry once.
On a prior day we walked down to the Lavanderia (Laundromat) to see what time they opened. Otto (8), just like our apartment number. As usual we woke up early, and decided to go across the piazza for cappuccino and see the old Italian man again. He had shown a lot of interest in us when we were there asking where we were from, and commenting about the differences between America and Italy. Jane wanted to bring him one of her hand crafted gourd ponies as a gift.
When we arrived at the bar, it was busier than before, but our old guy recognized us and came over to say "buon giorno". Jane gave him the gift and he was very pleased and put it up on display behind the bar. We ordered our cappuccino and croissants.
After we finished, Jane asked the man if she could take a picture with him, "for my Mama". Later she explained that Italians will always do something if it is for someone's Mama. He was happy to oblige, inviting her behind the bar. Jane handed me the camera and I took the picture.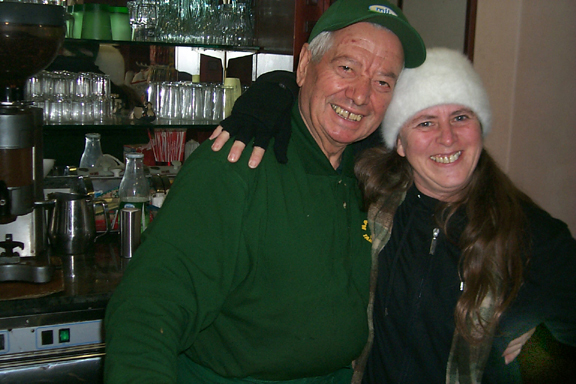 Jane and the man from the cappuccino bar. Notice the position of his left hand
We finished up our breakfast, and I listened to the old man talking in Italian to another man working behind the door. I could only make out a few words, including "California" and "Normale". The old man said those words to the other man, and he repeated them as if astonished, "California!! Normale??!!?".
Jane and I left and started back around the Piazza. I looked at Jane and started to ask her what that conversation was about, and she started to look embarrassed and laughed, "He FELT me UP!".
I stopped dead in my tracks, and my jaw unhinged. "WHAT?", I asked. "The old man, he felt me up! Then he said to the other guy, 'She's normal! And she's from California!' the other guy said back to him, 'Normal? From California?". Apparently, he was under the impression that every woman from California has had breast augmentation.
I told her that I had caught the whole California Normale thing, but didn't know what they were talking about besides that. I wondered if I should get mad and storm back into the bar and defend my wife's honor, but then I just started to laugh. Besides, I had no desire to write a chapter about my experience in a Roman jail.
In our three trips to Rome this was the first time any of our female travelers had been groped. We had always heard the Italian men with "Roman" hands. It appears that this tradition may have ended with the generation that this gentleman was from.
By then it was close enough to 8:00, so we went back to the apartment and collected our laundry, walking past Piazza Dante toward Via Merulana. We walked inside the lavandaria, and an old man who looked like the same person who had been there in prior years greeted us. We told him we would like to wash our clothes. He told us to leave them there and come back in two hours.
Jane and I were both very confused. The other years, we had waited with the clothes and transferred them to the dryer and folded them. The man always gave us strange looks, but I thought he just wasn't used to being around Americans or something. I always thought it was very expensive for a Laundromat, but it was near the apartment.
What finally came to me here, is that this was a full service laundry. He was going to wash, dry and fold our clothes for us, and that's why it had always been so expensive, and he always gave us those strange looks. I wish I'd known that back in 2004 on our first trip, I would have just dropped the clothes off in the morning and gone back on vacation, returning that afternoon. Well, I guess we've learned something new with each trip, and this was one of those.
We left our clothes and went to find the place that had been closed on Sunday that roasted their own coffee beans. It was open this morning and very busy. We went to the bar and ordered our second cappuccino of the day. I thought this was definitely the best coffee of the entire trip, and the neighborhood seemed to agree with me. While Jane and I sipped ours, they must have served fifty Italians coming in and out quickly for their shot of espresso.
When we finished we went to the back where they sold their coffee beans by the half-kilo (about a pound). They had several types to chose from, Jane spoke to the woman behind the counter in Italian, and told her we wanted some coffee to take home. She asked if we wanted it ground. I said no, thinking that might help keep the odor down in the luggage as we snuck it back across the American border. This coffee shop is named Ciamei, and has apparently been in Rome for a very long time. We saw a photo on the wall of their employees lined up in front of the shop that looked like it could have been from the 1940's.
We left Caffe Caimei and went and did some Christmas shopping for the folks back home. At one point we ended up inside the Roman version of a .99 cent store and Jane picked up a number of little items to put in the stockings when we got home.
At 10:00 we ended up back at the lavenderia, and our clothes were all bagged up and ready to go. Jane asked the old couple there if she could take a picture of them for her Mama. They kindly obliged. This time I watched where the hands were going. No place close to the normale zone, of course, it was probably his wife standing on the other side of Jane.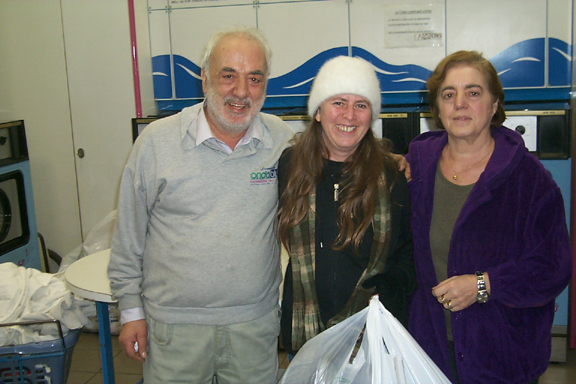 Picking up the Laundry
We went back to the apartment and dropped off our laundry and the items we had purchased, then went over a map of Rome to discuss what we were going to see on the way to our afternoon tour of the Vatican Necropolis.
Video: Making Plans for the day
(Press Play to Start or click HERE if Video doesn't start)
We headed for the underground and boarded the metro red line, zipping past Termini Station on to Piazza Di Spagna, home of the famous Spanish Steps. Exiting the Metro station I saw a place selling pizza by the slice. I really wanted some, but we decided to wait until later. Jane spotted a poster of Andy Warhol that appeared to be advertising some kind of art festival. We walked a little father down the street and found a man roasting chestnuts for sale. We bought a cone of chestnuts and started walking up the Spanish Steps.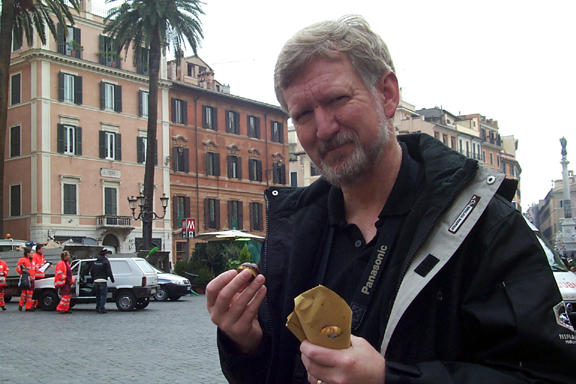 Joe eating roasted chestnuts at Piazza Di Spagna
Video: Roasted Chestnuts, Andy Warhol, UPS and McDonalds in Piazza Di Spagna
(Press Play to Start or click HERE if Video doesn't start)
From the Spanish Steps we made our way to the Mausoleum of Augustus, finding it closed and in a state that would suggest it is currently being ignored. We walked around it carefully avoiding piles of dog excrement along the dirt path surrounding the burial place of the first emperor of Rome who brought about the Pax Romana, or a time in Rome of relative peace. Augustus was the heir of Julius Caesar, and the person the month of August is named for.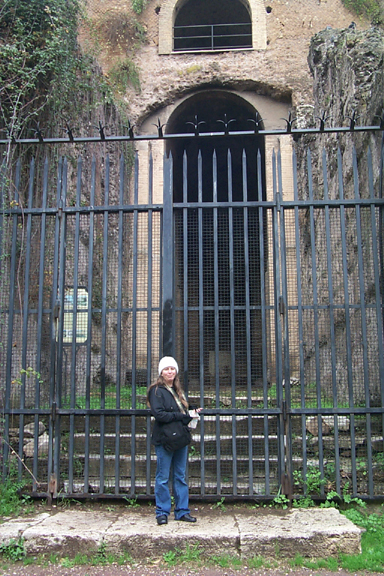 Jane at the Mausoleum of Augustus
Video: At the Mausoleum of Augustus
(Press Play to Start or click HERE if Video doesn't start)
Continuing on our planned path, we next came to the Pantheon, and amazing building first built around 25 BC, and then destroyed by fire and rebuilt around 125 AD. The dome ceiling is fascinating constructed of coffers of concrete poured into molds. At the top is an oculus, a hole that lets in light and sometimes rain.
Video: The Pantheon
(Press Play to Start or click HERE if Video doesn't start)
Located near the Pantheon was Santa Maria sopra Minerva, a Basilica of Rome and home to two famous sculptures we had the opportunity to see. Outside under an Egyptian obelisk is the Pulcino della Minerva, a sculpture of an elephant by Bernini.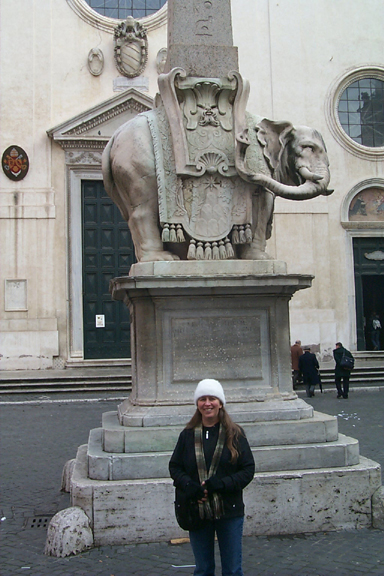 Jane at the Elephant Church
Inside near the altar is Michelangelo's Christ the Redeemer done in marble, and absolutely lifelike as are all of his masterpieces that we have been lucky enough to see.
On the way to Piazza Navona, we stopped for lunch and had pizza by the slice. This is different than regular pizzeria pizza in Rome in that it is usually pre-made, and comes with a large assortment of toppings. You point out which ones you want, and they heat them up in the microwave. It's not as delicious as regular pizza, but a good choice when you are on the run. I had some with mushrooms, and Jane picked one with slices of tomato. We bought a small bottle of wine each and enjoyed lunch at a table out on the street.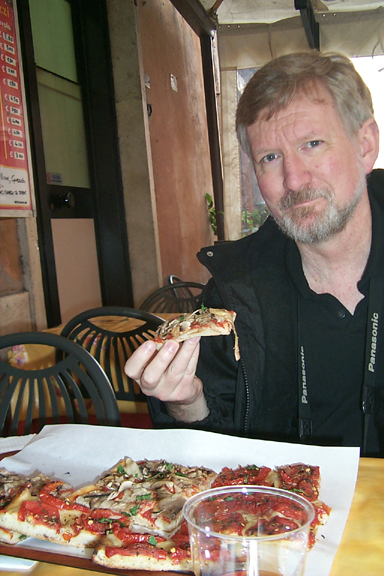 Pizza by the Slice!
While we ate and drank, a man came up playing "Jingle Bells" on an accordion, and instrument that is apparently still in style in Italy. After tipping the man, and finishing our meal we headed off toward Piazza Navona.
Video: Pizza by the slice and Piazza Navona
(Press Play to Start or click HERE if Video doesn't start)
Several friends mentioned that if we were going to be in Rome around Christmas to make sure to visit Piazza Navona. When we arrived, the famous fountain of the four rivers was being refurbished, and was completely covered up, except you could see most of and Egyptian obelisk poking out the top.
The rest of the area was covered with massive street fair selling items for Christmas. One thing in particular caught our attention. There were a lot of witches for sale. Many of the vendors had suspended from their canopies witches riding on broomsticks. One in particular had hundreds of them and would clap and make loud noises which would cause the little witches to cackle. I wondered if perhaps they were holdovers from Halloween. It was very confusing.
After we returned home, I looked up the Christmas Witch, and found out that this character is called La Befana. She isn't a witch, but an old lady who rides a broomstick, and brings the children of Italy candy or a lump of coal on the eve of January 6th. The character is thought to have originated in Rome, and spread from there to other parts of Italy. Apparently, Piazza Navona is La Bafana central, and is the location of "Fiera della Befana" between Christmas and Epiphany.
Leaving Piazza Navona we wound through the streets and shops. Rome is busy this time of year with a lot of people out shopping, and many more street stands than we have seen other times of the year.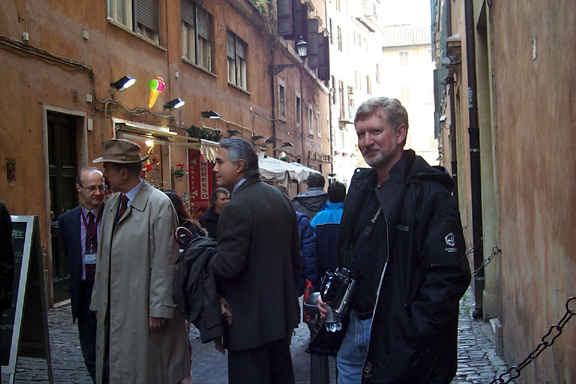 Joe on the streets of Rome. A little buzzed by the wine from lunch.
Soon the Vatican was within sight, and I was amused to see the same kind of Boom Lift that we use at my company, Sheppard Decorating, to install ceiling decorations being used to set up the Christmas tree in Saint Peter's Square.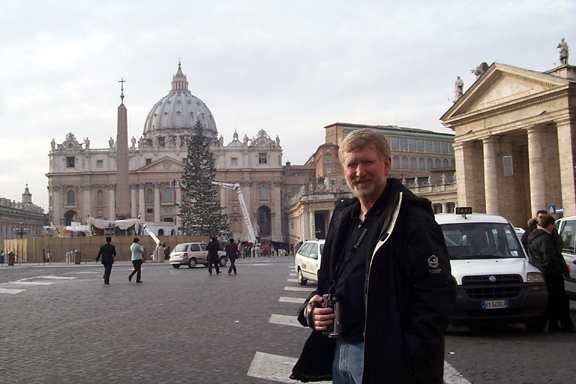 Approaching the Vatican where a crew is installing the Christmas Tree
Inside the square a crew was also working setting up a Nativity scene. I was surprised that at this late date, only a few days from Christmas, that decorations were only just being installed. Back home, we've been seeing Christmas lights since November. Later, I learned that in Italy decorations usually go up on Christmas Eve, and come down after January 6th.
We found the entrance to the office of the Scavi (Excavation), that conducts the tour of the Vatican Necropolis. This tour is by invitation only, and to be invited you have to contact the Scavi office far in advance with possible dates you can go on the tour. It is not a given that just because you ask, you will be invited to the tour. We have been lucky that both times we asked to go on this tour we were allowed. I was fortunate enough to be on this tour in 2004 with my two older kids. Casey was a year to young at the time to be admitted, so Jane had to go back to the apartment with her. I wanted to make that up to Jane this time and was really glad when our invitation was received.
After checking with the Swiss Guards at the gate, we found a comfortable place to sit and wait at the base of one of the columns.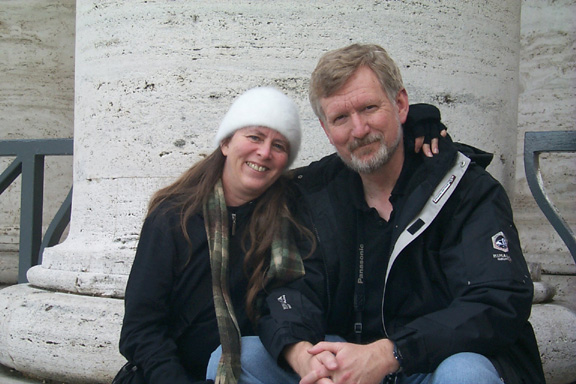 Waiting in Saint Peter's Square for the Vatican Necropolis Tour
When the time came, we were allowed past the guards inside a protected area of the Vatican. We went into the Scavi office and I showed the man inside our invitation. He produced two tickets and asked us to wait outside.
We joined a small group of English speakers, and soon a young man wearing a Priest collar came up and asked if we were here for the Necropolis Tour. He introduced himself as Eddie, and said that he was a seminarian and not yet a Priest, but he was at the point in his training where he could wear the collar.
On my prior visit to the Necropolis we had a female tour guide who was very difficult to understand. Eddie was an American, so I felt happy that I might understand more about the area that I did the first time around.
They do not allow photography in the Necropolis, so I have no photos or video to share. I can tell you that this tour would be interesting to anyone who is interested in the burial customs of ancient Rome. Eddie walked us through the family tombs of early Christians, interpreting a mixture of Christian and Pagan symbols near the graves.
In the highlight moment of the tour we were taken to a chamber believe to be the final resting place of Saint Peter, and were allowed to look at a small collection of bones thought to be those of the Apostle.
Eddie performed a short reading from the Bible, and then lead us all in the Lords Prayer. It was a very moving experience, and quite different than the tour I experienced in 2004, much more religious and with far more material presented. This was really more than a tour, it was a pilgrimage, and something that anybody with an interest in Rome would find fascinating. Unfortunately, very few people know about it, or would do what it takes to get invited. My advice? Do what it takes. Everybody who goes to Rome sees the Coliseum. Few get to walk around in the tunnels under one of the most famous Churches on earth.
When we exited the Necropolis we went inside Saint Peter's Basilica and looked at the statue of Saint Peter that has its foot nearly worn off from centuries of being kissed by pilgrims.
When we came outside, it was dusk. We stood dead center in the entrance to Saint Peter's Basilica and looked out over the square as the sun set and the bells began to chime.
Video: Saint Peter's Square
(Press Play to Start or click HERE if Video doesn't start)
We walked out of the square, and found a bus to take us to Termini, and then hopped on the Metro for our one stop ride to the apartment to freshen up, and then went to the phone place to call home.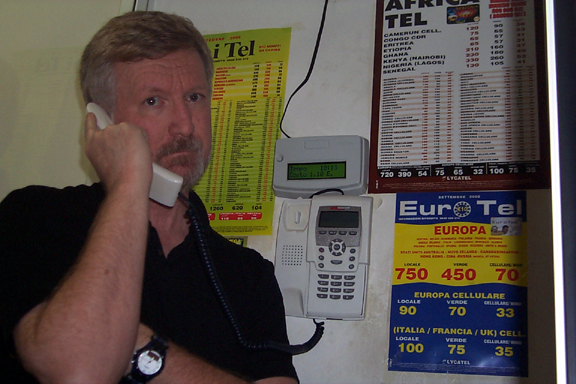 Calling home. You can talk to the US in these places very cheaply
After talking to the folks at home, it was 7:00pm and time go over to Il Padellaccio 2 (pronounced "eel-pod-oh-loch-ee-oh-doo-eeh") for dinner.
This night we didn't want Pizza because we had it for lunch, so we asked the waiter for his recommendations. For me he suggested a seafood linguini with lobster. For Jane, the mixed grill. He brought us another red Italian wine we had not yet tried.
Video: Waiting for dinner at Il Padellaccio 2
(Press Play to Start or click HERE if Video doesn't start)
When dinner came, we were both very impressed. I like their pizza so much, I tend to have it over and over again. This was a major meal. On the plate was pasta drenched in olive oil and herbs. Mixed in were huge shrimp. To the side was half a lobster, very fresh and cooked perfectly.
Jane's mixed grill consisted of calamari, crab, shrimp, a langostine and some sea bass with Italian vegetables. It was the best dinner of the trip.
We ended the night as we had every other at our favorite gellateria. Over my three years of blogging about Rome, I don't think I've really written enough about this place. Mainly I didn't know much except that they have great ice cream. I really didn't even know the name. This year I did some research. The name of the place is Pallazo Del Freddo, and the company goes back in Rome to 1880. They have been at the location on Via Principe Eugenio for over 60 years. A visit to their website at includes a video showing the inside of the store, and how they make their fresh and delicious gelato.
We walked back to our apartment eating our ice cream, sore from another day of walking Rome, but very satisfied.
NEXT: A visit to the lost city of Pompeii! Jane and I walk from one end of this massive excavation of a 2000 year old city! We wait out a rain storm in the cafeteria, drinking bottles of Lacryma Christi wine. Then we stagger back into Pompeii getting happily lost in the process!
But first! Another picture. Here are Jane and I having our seafood dinner at our favorite restaurant: