We traveled to Europe three times in three years. Each time we went, we took less people and spent less time, making it more affordable. This time we committed to just Jane and myself and to only be gone for seven days.
In one way, it works because after having two recent trips under our belts, we knew what to do, where to go and how to accomplish things quickly. In another way, it was very exhausting trying to fit in all the things we wanted to do in such a short time.
One thing we hadn't really understood going in is that we lost what felt like almost three days on the trip over. We left Los Angeles on a Thursday night, landed on Friday night, and didn't wake up to actually do anything until Saturday. Then, on the other side we had to go back to the airport on Wednesday for a Thursday morning flight. On the calendar, it looked like a seven day trip, but with a nine hour time difference between Los Angeles and Rome, we ended up having only four full days of just being in Rome and not having to think about travel to or from Los Angeles.
If I had to do it over again, I would leave in the early morning, arrive the next morning and take a nap, then have at least some of the arrival day to do things. We learn more every time we go. Hopefully, when we go again I'll read my own blog and remember this.
Even so, we had a great time, though it seemed like we were really pushing ourselves to see everything we could in fewer days than we really understood we had.
One of the better ideas we had for this trip was spending the first and last night right at the airport. I stay at Hilton properties a lot for my job in the convention and trade show business. I rack up a lot of points, and then use them on trips like this. I also have gold card status, which gives me a room upgrade when available. Our two nights at the Rome Airport Hilton were free, and both times we were upgraded to the club level where we had access to a lounge that offered free snacks and refreshments.
On Wednesday morning, we woke up at the Apartment, and gave a sigh because we knew it was time to pack up and check out. We ate much of what was left of the food we bought at the local supermarket, and started to bag up our garbage for a trip down to the curb where they have these large green dumpsters for the apartment dwellers.
Packing was interesting. On the way out, my suitcase was so empty I couldn't strap my camera bag to the top to ride along, because it would just collapse. With all the gifts an things we had bought in Rome to take home, my bag was so fat it looked like it would pop. Buried deep inside wrapped in t-shirts were bottles of La Cryma Cristi wine, and two big chunks of Parmesan Reggiano cheese. Jane had many knick knacks that she had picked up at various gift shops. I had lost one jacket on the train, but Jane bought me a leather jacket and a raincoat while we were there. We really had those bags so full they looked like they would explode.
We had become very familiar with the lock down procedure for this apartment. We lined up all of our belongings near the door, then shut off the electricity at the circuit breaker box. We turned off the hot water, and shut off a water valve near the shower. We dried out the refrigerator and left the door open. Washed and put away all the dishes. I went to empty the water from the heater, and was surprised to see that it was black and dirty for the first time. I looked outside, and it was the first morning it wasn't raining. I guess when it rains all the nasty stuff in the air ends up on the ground, but today the water looked espresso.
We decided to make one last trip over to the coffee bar where the old man worked who had verified that Jane's upper deck was original equipment. When we arrived, we were greeted like old friends. We ordered "Due cappuccini, y due croissant, per favore". The man treated us to two of his large deluxe pastries that were loaded with fruit and sugar. I am struggling with avoiding sugar, having learned that I am a borderline diabetic shortly before leaving for the trip, but I accepted his kindness. I was surprised at how quickly I had become unused to sweet food.
When we finished we walked back across Piazza Vittorio and looked around one last time for the cat that had taken a liking to our daughter, Casey. We saw lots of cats around the ruins, but no orange tabby. We hoped that somebody had taken this very friendly animal home.
We took the small elevator back up one last time and loaded it with our swollen luggage. It's kind of amazing how much luggage two people can handle when the main pieces are on wheels. I thought about how much easier it was this time just having Rome as a base, instead of moving to different hotels every couple of days with the luggage.
We went to the Piazza Vittorio metro stop and waited for an empty enough train where we could safely get on with all of our stuff. We had learned that the front or back car is usually less crowded, and if one train comes that is packed, the next train will usually be almost empty.
One stop later, we were at Termini. We walked by the signs for "left luggage", and I remembered the year before when we stood in the line there to store our luggage for hours. I had come to the conclusion that it would be better to pay for one extra day at the apartment than to ever attempt to store luggage at the Rome train station again. I was really happy that we would not have to do that this time around.
We arrived at the ticketing area, and I told Jane that I would try to get tickets from one of the vending machines, that operate similar to an ATM. She said she wanted to go into the book shop while I bought the tickets. She headed over to shop with her luggage, while I went to get the tickets.
These machines operate with a touch screen, and when you first walk up, there are pictures of different flags. If you want the machine to operate in English, you have to touch the British flag. I wondered how many Americans walk up to these machines and can't figure that out, probably wondering where the US flag is, thinking that the machine can't operate in English because they probably have no idea what a British flag looks like.
I punched up the next Leonardo Express, and found out that one was leaving in ten minutes. If we didn't get that one, we would have to wait almost an hour. Once you buy these tickets, you can use them for the next several months, so we weren't in danger of losing the fare if we missed the train, but I wanted to get on that one so we wouldn't end up missing an hour sitting around the train station.
I zipped over to the bookstore to look for Jane. My wife isn't easy to find in stores because she is only 4'11" tall, which makes her shorter than most display racks. You can be within 3' of her and never know it if she is on the other side of a shelf. I walked very quickly up and down the cross aisles, hoping to catch a glimpse of her so I could tell her we had to make it quick to get to the tracks.
I finally spotted her at the checkout counter. She was finishing up paying. I came up and told her we had our tickets and the train was about to leave. We made a dash for it, and had no problem getting on board.
Arriving back at the Rome Airport, we navigated the moving sidewalks with our luggage and made it to the end of the long skywalk where they have the one small passenger elevator that takes you downstairs near the front of the Hilton.
When we arrived a week before, it was in the middle of the night, and the clerk acted like our room wasn't ready, even though it was hours after official check-in. After a lot of waiting and calling around to housekeeping he did find an empty room. This time we were at the front desk hours before check-in, so I figured we would be told that we would need to come back later. My plan was to ask if they would store the luggage so we could be rid of it.
To my surprise, this clerk checked us right in, giving me the keys to a room up on the executive floor.
We went upstairs to our room and dumped off the luggage. Next we went over to the executive lounge so I could get on the computer and check us in for our flight the next morning using Swiss Air's website. For an International flight, we learned that they wouldn't actually check you in and give a boarding pass, but if you did attempt an online check-in, they allow you to check in for the flight at the business class counter, which has a very short line, if any.
We make plates of the free snacks and drank some of the complimentary wine while I printed out or flight documents for the next morning. The lounge had a few American business types sitting around, reading the newspaper and watching CNN. It's odd for me traveling in Europe now, because my reaction to seeing other Americans is kind of like, "Ugh… Americans!". I guess if I wanted to be around my fellow countrymen, I could drive one state over to Arizona.
I decided to check my email, and found hundreds of spam message that had been building up over the week. Jane started to look like she was getting tired of waiting, so I went ahead and logged off.
We went back to the room and debated the idea of which cameras to take. Then we made a rather revolutionary decision. We didn't want to carry any cameras for a change. We just wanted to walk around Rome without worrying about taking pictures or videos. Good for mobility, bad for this segment of the story, I guess!
We walked back to the airport complex and made our way to the train station. Instead of taking the Leonardo Express back, we decided to ride the regular train instead. This train cost far less per ticket, but made frequent stops on it's way to Termini.
We decided to exit the train at Trastevere, a section of Rome we had head a lot about for it's trendy restaurants, but before this had never ventured to.
Trastevere is on the west bank of the Tiber river, and the name literally translates into "Beyond the Tiber".
I guess it's like this in many places in the world, but where we got off the train at Trastevere wasn't anyplace near anything we expected. We came out in a neighborhood, and we didn't see anything that looked like trendy restaurants. I guess it's kind of like flying to LAX and thinking you might get off the plane and walk a few blocks to Hollywood and Vine.
It wasn't like we were in a hurry, it was still late morning and the only thing we really had to accomplish was getting back to the airport in time to catch our airplane the next morning. We just started walking.
After a mile or two, we started to find something that started to look like a business district. I saw a pharmacy and mentioned to Jane that my aching feet and back could use some of that pain killer we bought a few days back, and had left back at the hotel. I couldn't remember what it was called and asked for "Panadol". The lady just looked at me like one does at foreigners who aren't making any sense. Then Jane started explaining to her in Italian that my feet and back hurt and we needed something for the pain. Then she slapped a box of Ketadol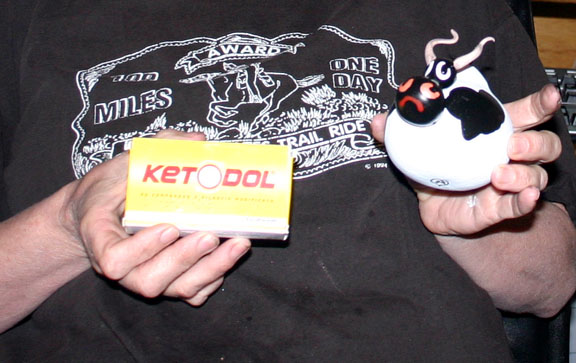 Three Months Later, Jane is still carrying this box of the Italian Pain-Killer Ketadol in her purse! We still aren't sure what's in it, but it works!
I'm not sure if we really ever found the part of Trastevere that people talk about, but at some point we did spot a nice looking bar that had a lunch buffet where we decided to stop and get something to eat.
Inside the atmosphere was busy and friendly. The woman behind the bar spoke English to us instantly. She showed us what they had available. I asked for some spaghetti that looked like it had hamburger cooked into it, and pointed toward a tray of sliced mushrooms. Jane had a zucchini dish. The woman asked us to have a seat. We looked around and it appeared that most of the seats were taken, then she pointed out a loft upstairs with tables. We told her that we would sit up in the loft.
Upstairs was populated with locals who had staked out their tables. They were sitting and sipping various beverages. A television was showing the news at the back of the room. We took a table out at the edge near the railing overlooking the main floor below.
When we walked in, everyone seemed to stop and just look at us, kind of as if to say, "What in the hell are THEY doing here?". We just kind of smiled at everyone, and sat down. Slowly our fellow diners went back to their food and conversations. After fifteen minutes or so, it was almost as if they forgot we were there.
The food came up, with a couple of glasses of wine. The pasta was just okay, but the mushrooms were some of the best I've ever eaten. They were sautéed with herbs in olive oil. I make some pretty outstanding mushrooms like this at home, but these were really the best I've ever tasted in my life. I thought she was just going to bring me some on the side, but she brought me a big plate of them piled high. I ate every last one of them practically licking the plate when I finished, because I knew I'd probably never get these again.
There was some kind of very disturbing news story on the television that had the Italians in the room all talking to each other and gesturing toward the television. Jane asked a young woman next to us in Italian what the story was about. She explained that a woman had murdered her own children. Italians absolutely love children, any and all children, so this was the kind of news story that really drew attention and outrage.
We spent quite a bit of time up in the loft just enjoying our food and wine. When we were done, we went back downstairs and paid for the meal. The woman at the counter wished us well. It was one of our more memorable dining experiences in Italy, but I'm not sure we would ever be able to find the place again, since we had been pretty much lost since leaving the train.
We kept on walking and eventually found the Tiber River. We walked along the Tiber until we found Tiber Island. I've always noticed this island in maps of Rome and wondered what went on there. We walked across a modern bridge, that was right alongside an ancient bridge that Romans used two thousand years ago for the same purpose.
The island is fairly small. We walked across it in only a few minutes. It mainly had shops and seemed to attract local artist types. There were a lot of people selling crafts on the street. It looked like it would be a fun place to just hang out for a few hours, but we kept on walking.
On the other side, we could see that we were not far from the Forum and the Coliseum. We were walking along, and I saw this church that had two ancient Roman columns built into it. I suggested to Jane that we might want to go inside and see what the place was all about.
I think that what we will remember most about this trip are the times we just wandered into random churches. Even the smallest churches in Rome are fascinating. This one was very dark inside, and it looked like we were all alone. There was an area where you could make an offering and light a candle, so Jane did that.
We worked our way up to the front near the Altar, and Jane noticed a closed gate with a staircase going down under the Altar. To my surprise, she just opened the gate and started walking down the stairs!
I started looking around wondering if an alarm was going to go off or something, when a man stepped out from behind some columns. I thought, "Oh boy… here it is, we are finally going to be arrested".
The man came up to me and said, "Buon Giorno! Parla Italiano?"
"No, Signore. Parlo Inglesi", I answered somewhat apologetically.
He immediately switched to English, "Would you like to take the tour?"
"SURE!", Jane and I said simultaneously.
The man took us under the church where he told us there had existed over two thousand years ago two temples. One Roman, and another Etruscan.
The foundations for these temples were still under the church. The guide pointed out the bases of two Roman Columns, and asked us if we had noticed the columns built into the side of the church when we were outside. I told them that we had. He said these were the bases of those two columns.
At the end of the tour, the guide pointed out a basket and suggested that we might like to leave an offering for the Church. I wasn't sure how much to put in there, so I figured Ten Euros, or Five each, which is about what the other places that had mandatory ticketing had charged. He seemed surprised that I had put that much in the basket, and remarked that I was very generous. I wondered if Americans had come there before us and just tossed loose change into the basket. The tour was definitely worth that much, and we were still the only people in the place. It seemed like a real privilege to be able to see such ancient things in such a private way. I wish I knew what the church was called. I do remember that it was very close to the Theater of Marcellus, which looks like a small version of the Coliseum, but had modern apartments built into the top of it.
We walked around another area with ancient ruins, and watched a woman giving an interview in Italian to a camera crew. I assume they were doing some sort of special about that excavation site.
As it was coming to late afternoon, and the sun was sinking low, we ended up on a hill above the Forum, where we could look down into those ruins. We sat on a bench and just stared down, with aching feet, realizing that our time in Rome was drawing short.
We had planned on walking over by the Apartment and having one last dinner at Il Padellaccio 2, but instead Jane suggested that we walk back over to Piazza Navona to see it lit up at night.
At this point, I was so tired and sore that I really felt like throwing in the towel and going back to the hotel, but the other part of me really didn't want to miss out on anything. Jane said that once we got over there, we could catch a bus back to Termni and then take the express to the hotel.
We arrived at Piazza Navona after sunset. It was indeed lit up for the holidays with a full out holiday vendor fair going on. As Jane walked from booth to booth doing some last minute Christmas shopping, I sat down by one of the fountains and used the cell phone to call home one last time. Evening in Rome is morning in Los Angeles, and calling right about then, I could call into the office and see how things were going. I spoke with my Mother, and our older daughter, Erin who works with us at our company. I told them where we were and that I really had my fill of walking at this point, and was sitting right at one of the famous fountains while Jane was shopping. They found that amusing.
I called our youngest daughter, Casey who was staying with her Aunt in San Diego. I woke her up from a sound sleep, and apologized and told her I'd call her later on.
I caught up with Jane walking by a booth full of the Strega Befana dolls, which look like a witch on a broomstick. They had hundreds of them suspended from the roof of one of the easy-up tents. A man would clap loudly, and the Befana's would start to cackle. He was drawing quite a crowd with this. I thought about buying one of them, but I couldn't imagine jamming even one more thing into my over packed suitcase.
We left Piazza Navona and found a boarded a bus to Termini Station. The bus drove all around Rome on the way and we could see various ruins illuminated. Most of the time we were snug in the Apartment by the time it was this dark, so it was fun to see what the various places looked like lit up.
At Termini, I bought the more expensive express tickets back. I was tired and sore, and really ready to call it a night.
At the Hilton, we decided to start off at the executive lounge. They had various very tasty hot snacks available. We ate quite a lot of those, and drank a few glasses of the complimentary wine. Each time a bottle would be finished, they would bring out a totally different red or white wine. I'm not sure how much of this we drank, but we had enough to where we got one more glass each and headed off to the room and never did go down to the restaurant and eat dinner.
Back at the room, we finished off our last glasses of Italian wine, set the alarm clock for early in the morning, and drifted off to sleep.
NEXT: We fly home to Los Angeles, via Zurich Switzerland, ending our wonderful honeymoon together in Rome!
But First…. No more pictures or videos, since we ditched all the cameras this day. But, here is a map of Rome showing the places we walked to on this day!