The morning we left the hotel in Florence, Christian and I went to go buy bus tickets at a local bar. I was able to do the entire transaction in Italian, "Seniore, cinque billete por autobus, por favore". Christian stared at me surprised. The man behind the bar leaned forward and said, "Cinque?". "Si, Cinque" I said, holding up five fingers. He counted out five bus tickets and I have him a €5.00 bill. "Grazie", he said. "Pronto", I replied. He looked at me a little bewildered. I had mistaken "Pronto", which is what they say when they answer the phone, for "Prego", which means "You're Welcome". Not too bad for someone who told Jane just days earlier that he would pretend to be mute during the entire vacation to avoid trying to speak any foreign languages.
A few days before, I had been in a bar with Erin and did the same kind of thing, asking for "dui cappuccini, por favore". I was kind of proud of myself.
We took the bus to the train station and hopped on the next train to Montecatini. It wasn't a long ride. We piled into a cab and headed for the Best Western Capelli Hotel. It turned out to be a really nice place. It had big rooms, and a big open shower inside a bathroom that was marble from floor to ceiling. They even had a pool and hot tub. It was also the cheapest hotel on the entire trip at only €76.00 per night.
We went down stairs and had lunch. It was a flat rate deal with several courses. Salad, Soup, Pasta, Entrée, Desert, wine. Everyone in the dining room was speaking Italian. It was apparent that Montecatini was sort of undiscovered by international travelers. I noticed how long the lunch went. Over two hours, everyone was very social.
After lunch, we needed to find a place to wash our clothes. We found a coin laundry and went in. Inside, like in Rome, there was an attendant. This one turned out to be an elderly woman, who did not speak a word of English. I had to take Euro and put it in a machine, that gave me Gettones, or what we would call in the US, Tokens. She told me to put "dui", or two in one of the washers. I put them in one at a time and cranked the handle. Then, on the next washer I put one in, and then tried to put in another. She yelled, "No! No!". Then there was a lot of chatter in Italian between her and some other old ladies who were sitting in some seats. I understood enough to know that one of her friends told her not to talk to me because I didn't speak "Italiano". All of these women seemed to find me very amusing. I took this photo: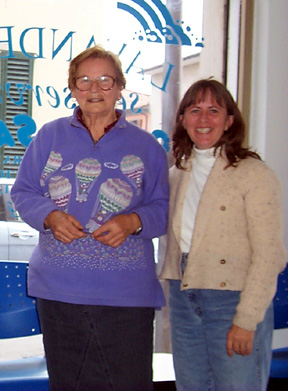 Jane and the Lady who ran the Lavanderia in Montecatini, Italy
Once we got all the washers in play, she told us that we should leave and come back in an hour, I should leave her with some Gettones, and she would put them in the dryer for us.
We explored more of Montecatini, which is a "spa" town where people have come over the ages to soak in waters that are said to have healing properties. We went back to the lavanderia to get the clothes. They were getting dry, and we folded them up, and said goodbye to the nice lady.
We went back to the hotel, where Christian decided to stay, and Erin joined us to go look around town. Right by the hotel, there was a sidewalk sale going on with a lot of street vendors. We spent time looking at the shops, and then it started to rain. I went back to the hotel and got our umbrellas. We ended up at a place where they had a carousel. Casey went for a ride in a tea cup. We had gellati on a type of crisp cookie, that was unique to Montecatini.
Later we went to a neighborhood Pizzeria. After having real Italian pizza, we didn't know how we could go back and eat Dominoes again. We were told that real pizza is always cooked over a wood fire. I've become kind of a wood BBQ fanatic over the last few years, so this got my attention. I asked what kind of wood they used, they told me it was oak.
We bought three full sized pizzas, and it was only 14.00 Euro. We had been paying about that much for one pizza in Rome. We ate them, and drank more wine. I probably drank more wine while in Italy during this trip than in my entire life before that.
Next: We leave Montecatini and head for Verona, the town where our son Christian was born 26 years before.
But first: A photo of Casey in a tea cup on a carousel in the town of Montecatini: