I performed as an Actor in "Romeo and Juliet" in 1978. I played "Friar John", the guy who ends up quarantined during a disease outbreak and fails to get the message to Romeo that Juliet has only faked her death. Because of this, Romeo finds Juliet, thinks she is really dead and kills himself for real. Then Juliet wakes up, finds Romeo dead and really kills herself.
At the time, I was about 19 years old, and insulted that I was cast in such a small part. Though they did let me go on during the big town scenes and carry a spear. Back then I thought it was such a bore. Going every night and sitting through the entire play, just to go on and recite a few lines of dialogue in iambic pentameter.
Twenty-Six years later, as I took the train from Montecatini to Verona, I kept seeing names of towns that were so familiar. Padova, Mantua and of course, Verona. The Bard called if "Fair", and it really is.
The thing that stuck me most about Verona was that the sidewalks were made from marble slabs. In one case, I saw a street made with marble. It wasn't being driven on, it was one of those walking streets with shops.
We arrived at Verona and took a taxi to the Best Western Hotel De Capuleti. Our son Christian was born in Verona, and this was his first time back since he was a newborn. During the entire vacation we kept teasing him about being our Italian guide. When someone would say something in Italian we didn't understand we would look at Christian and demand that he translate, since he was a native. Of course, Christian has been in the US since he as about 10 months old, so he was as clueless as the rest of us. But, when the clerk at the hotel took our passports, she noticed it and said, "Oh! You were born here!".
Soon after we got our things settled in the rooms, we decided to take a cab to the hospital where Christian was born. The reds decided to stay behind and rest up, so it was just Christian, Jane and myself on that excursion.
We arrived at the hospital, and took this picture of Jane and Christian at the front entrance: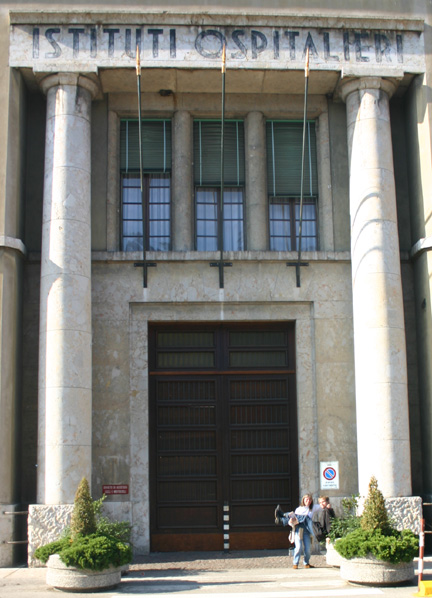 Jane reenacts carrying Christian out of the hospital 26 years before.
We went to the guard shack and talked our way onto the hospital campus. It was very large, with a lot of buildings in a park-like setting. I laughed when I saw a directional sign that pointed one way to Oncology, and another way to the hospital Bar.
We found labor and delivery and Jane talked to the nurse and she let us go upstairs to see where the babies are kept. Since Jane had Christian by C-Section, this was the first place she ever saw her son. We stood at the window and looked at the newborn babies, and I thought of what it must have been like for Jane back then, a 22-year-old single mother. I realized that only months after she stood in this spot was when I met her and Christian for the first time. That was right about the same time I was trodding the boards as Friar John in our make-believe Verona in Hollywood just off Melrose.
We left the hospital, and caught another taxi. Jane asked him to let us off at Piazza Bra, which is at the heart of Verona.
We walked around Piazza Bra, and I started to be amazed by all the marble everyplace, from the buildings to the walls to the sidewalks. It was so different than Rome, so clean.
We went by an attraction known as Juliet's House. When we told Erin that was one of the things to see in Verona, she asked, "The fictional Juliet's fictional house?". Yes, but still pretty cool. When you go into the courtyard, people have plastered all the walls with love notes.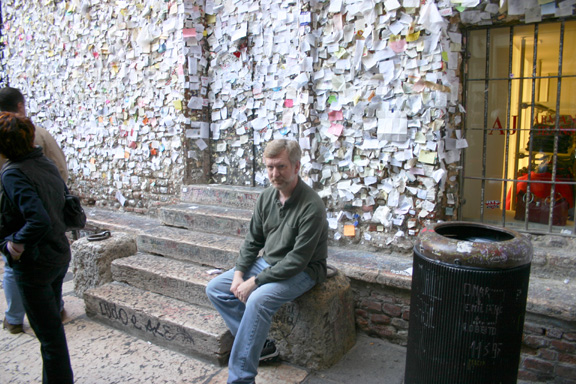 Joseph sitting in the courtyard of the house of Juliet in Verona. Plastered on the walls are love notes.
We made our way back to the hotel, and went to find the reds to see if they wanted to get something to eat. They did, so we asked the hotel for a recommendation. We were screwed up again by arriving in town after lunch, but before dinner, so almost nothing is open. We found a place just on the other side of the Verona version of the Great Wall of China. We went in and sat down. But, it seemed creepy. It was more like a bar in the US, where it was dark and there was nobody else inside. So, we got up and left to look for something else.
We ended up walking all the way to Piazza Bra. We showed the girls Juliet's house, and we noticed a lot of people walking up to a statue of Juliet, and placing their hand on her breast for pictures. I thought at first that it was just some weirdo doing it. After all Juliet was only about 14 years old. But, as we watched it was everybody. Old people, young people, kids, grandmothers, Asian people, Americans, lots of Italians did it. They all lined up to put their hand on the boob for a picture. I was certain that I would never do anything like that.
We went inside a shop, and Erin saw a mask that she really liked. This was one of the masks like people wear at Carnival. Jane bought it for her for her birthday, which was going to take place while we were in Venice the next day. She seemed pleased.
We finally found a sidewalk café that was open and sat down and had pizza, pasta and wine for a late lunch, or early dinner.
The next morning, we got up and had breakfast at the hotel buffet. It was Erin's birthday and she was talking about how much she liked one of the other masks at the shop at Juliet's house. We decided to go back there before leaving to get the mask. It was an elaborate full face mask.
On the way out, I let Erin talk me into posing for a picture: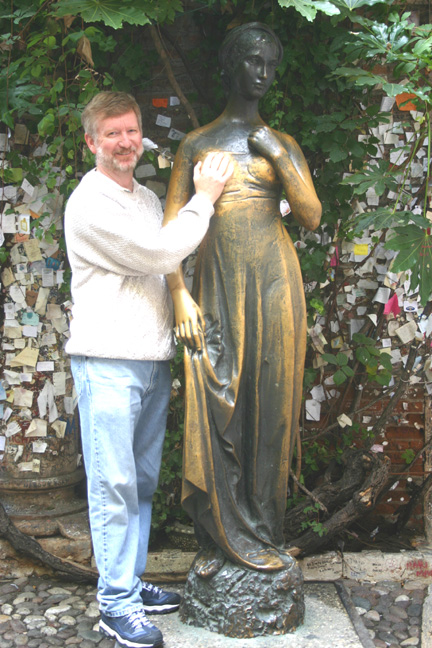 Joseph gropes the statue of Juliet apparently for good luck.
Of course, everything comes with a cost.. Here's what Erin had to do in order to get me to pose with the statue: