"You won't see a cop walkin' on the beat
Nobody's walkin' walkin' walkin' walkin' walkin'
You only see 'em drivin' cars out on the street
Nobody's walkin' walkin' walkin' walkin' walkin'
You won't see a kid walkin' home from school
Nobody's walkin' walkin' walkin' walkin' walkin'
Their mothers pick 'em up in a car pool
Nobody's walkin' walkin' walkin' walkin'
Walkin' in LA, nobody walks in LA
Walkin' in LA, nobody walks in LA"
-Missing Persons, from the song "Walkin' in LA".
Like "Missing Persons" says, Nobody walks in L.A. It's really true. If you are from L.A. and you live three doors down from the market, you drive your call three doors down, park it, shop, put the groceries in your car, and drive the 50' back home. I've lived in L.A. so long that the only reason I know this is even strange is that people will visit us from other cities and ask why we are driving when the place we are going is only 1/8 of a mile away.

When I visit a different city, I always rent a car. In fact, before leaving I went to the Auto Club and got an international drivers license, just in case I got the notion to rent a car while we were gone. The concept of not having a car is so foreign to me, I can't even begin to explain it, and if you have never lived in Los Angeles, you wouldn't understand it if I could.

But, another old saying is, "When in Rome, do as the Romans do". There are Romans who drive, but they are insane. I don't mean this as an insult to any Romans who may be reading this. I think it is a clinical fact. I have never seen more crazy, aggressive driving in any place I've been. We were in a Taxi at one point, and Christian asked, "Don't they have lanes?". I told him that as far as I knew they did in some places, but nobody used them. Crossing the street was another challenge. Traffic lights mean nothing. People walk when they think they have a chance, red or not, and cars dart around them.

We woke up on our third morning a bit sore from all the walking. I had already started hitting my supply of extra strength Tylenol, which was helping some for the muscle and foot pain. I was surprised at how sore I was, because I had just finished doing a large trade show in Las Vegas, where I had walked many, many miles and that usually gets me in shape for anything. But, I was getting really sore.

This was the first morning that we had an organized tour scheduled. Months before leaving, I had emailed the Vatican, office of the Scavi to see if they would grant us an opportunity to tour the excavations under Saint Peter's.

A good friend of mine is a Roman Catholic Priest, and he told me the story of how, sometime around WWII, Pope Pius authorized some limited excavations under the Vatican. Prior Popes feared that digging under the Vatican would cause it to collapse. But, with more modern engineering techniques, the Pope felt it was safe.

What they found, was a Necropolis, and ancient graveyard complete with an intricate network of family tombs from the Constantine era.

Legend had it that directly under the modern altar in the Vatican, was the tomb of Saint Peter. But, after 2,000 years, nobody was really sure if it was legend, or fact.

But, guess what they found dead center, and many layers deep? A tomb, with the name "Peter", and bones of a middle aged man. Missing the feet. It has been said that Peter did not feel he was worthy to die in the same manner as Christ, so the crucified him upside down. The theory about the missing feet is that his feet may have come off, or they may have broken his legs at the shins during his crucifixion.

True or not, it's an amazing story, so I wanted to see it first hand if at all possible. I was excited when the Scavi office wrote back and said we could come.

But first… I had to deal with the missing credit card. It all sounds very simple to just hop on the Metro and go back to the Trevi Fountain and get the card. But, the metro stop is no place near the fountain. It is way up a hill, and over buried in a bunch of shops and surrounded by hordes of people. But, I had to go get the credit card. I thought about just canceling it, but most merchants will put the card in their cash register and wait to see if you will return to get it. If they didn't have it, I planned to cancel the card immediately. But, I thought there was a good chance that they would have saved it for me, and then I'd still have the card for the rest of the trip.

Plus, we learned that the Bone Chapel was near the fountain. The Bone Chapel is this Capuchin Crypt beneath the Capuchin Church of the Immaculate Conception built in 1645. I'm not sure why the Brothers in this church did this, but they took the bones of their dead comrades and made all kinds of decorative things out of them. There are Clocks, chandeliers, and all kinds of weird things. I was concerned that Casey might be disturbed by it, so I gently mentioned it to her and she replied, "Oh! COOL! I saw that on the Discovery Channel!".

So, we figured that getting up early, we could get over to the restaurant, retrieve my credit card, and go to the bone church, then on the Metro to the Vatican to make our noon appointment to see the Necropolis.

We arrived back at the Tritone Fountain without incident, and got briefly lost trying to find the restaurant. Somehow we approached the fountain by a different direction and got a little turned around. The fountain, that morning, was being cleaned. They had all the water turned off, and workmen were in there sweeping up all the coins that people throw in. It was interesting to see this behind the scenes event taking place.

We rounded the corner to the restaurant, and it was CLOSED. Crap… So, we decided that after the Vatican, we would get back on the Metro and walk back up that long hill to the restaurant and I could finally be reunited with my Visa card.

With that, we started looking for The Bone Chapel. We knew it was right around us, but we had a very hard time finding the place. We walked up and down that hill from different sides, feet aching. Finally, we figured out that it was right where we had gotten on the double decker bus the day before in the rain! We had been standing outside the bone church that whole time!

Then, we hit a dead-end, so to speak: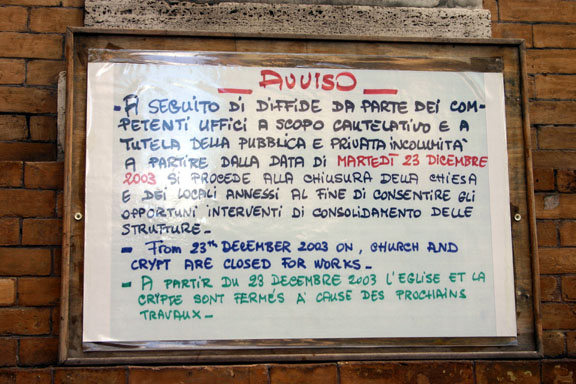 "Crap", I thought. "Six thousand miles, and no bones!". We all stood there reading the sign looking kind of lost, as other weirdo's walked up and discovered the same macabre truth. All that research on the Internet, and nobody mentioned on any of the websites that the place had been closed for almost 10 months. Oh well.
With two strikes against us, we headed to the Vatican for our tour of the Necropolis. On the way there, we jumped off the metro for a moment to visit the Spanish Steps: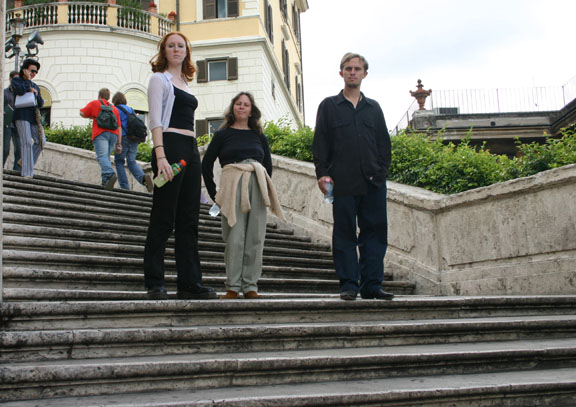 Erin, Jane and Christian pause for a moment on The Spanish Steps
I decided to see how quickly I could make it up the steps. I did it in under two minutes, and then tried to figure out why I had subjected my aching body to that. But, it was nice at the top. A good view of Rome. Some guy sold us bottles of water for about €3.00 each, and I gladly paid it.
Then, we got back on the Metro, and got off an San Pietro. This is another Metro stop that isn't even in the same neighborhood of what it is named after. We spent more time trying to figure out where we were, and finally headed for the big bell tower.
Coming from the US after 9-11, I'm very aware of security. Until we reached the Vatican, I had seen no signs of any kind of organized security in Europe. With the trains you could just jump on without so much as a ticket, and nobody even glanced at your bags.
Not so at Saint Peters. LOTS of security. Also, lots of people who act like they hate mankind. It was one of the first places in Italy that I felt unwelcome. I was surprised by this, given the historical nature of the place.
We had our email from the Scavi office with a description of where we were to go. But, Saint Peters Square is massive. We finally found what we thought was the general location, and asked a Swiss Guard if we had come to the right place. He was one of the few friendly people we met there, and actually appeared to be Swiss. He told us to come back to that spot 15 minutes before our tour time, and he would let us in. He is the one on the right: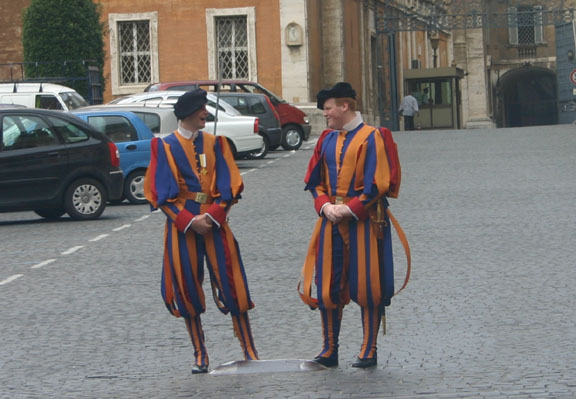 Swiss Guards near the entrance to the Vatican Necropolis
They appeared to be setting up for an event. Thousands of folding chairs were being installed in the square. The next day, we saw on the news that the Pope made an appearance not long after we left.
We sat against one of the large columns that line the square waiting for our tour time. A Vatican pigeon pooped on Casey's head. Erin laughed about it, and that sent Casey into a rage. Jane took her to go find a bathroom and get her calmed down.
When they got back, it was time to go see our Swiss Guard friend. He let us right in. We were inside a secured area of the Vatican. Lots of parked cards and buildings. It reminded me of the back lot of a Twentieth Century Fox Studio back home.
We found the office of the Scavi, and the man at the desk looked at Casey and told us that she was too young for the tour. We all kind of looked at each other. He said that Casey was probably 7-8 years old. In reality she is 10, but you have to be 11 to go on the tour. So, Jane offered to go back to the Apartment with her so me and the two older kids could still go on the tour.
After the man at the desk told us Casey was too young, he just left. His manner was very rude. The three of us stood at the desk for quite some time, and then I called for him (my first real attempt at speaking any Italian). He came back, and I told him that my wife and youngest child had left to go back to the hotel, and that the three of us would still like to take the tour.
He scowled at me and said, "You pay for cinque (five)". I shrugged my shoulders, like, "Oh well?". He scowled at me again, and reached into a drawer and slapped down a €20.00 bill (the cost of the tour had been €10.00 each). And then slapped the three tickets down on the table, giving me a look like I should go to Hell, and he had the power to send me there.
Our tour was to be conducted in English, so most of the people with us were Americans. It was the first time I had seen any large group of Americans since we arrived. Most of them were older. Erin at age 20 was, by far the youngest person on the tour. Most were 60's and even older.
I'm not sure where the tour guide learned English, but her accent was very odd. She was Italian, but her English sounded a bit like Australian, mixed with that melodic tone that the hearing impaired have when they are learning to speak. All of my fellow tourist, looked at each other asking under our breath, can you understand her? Nobody could. But, what the heck?
We went past the Vatican Grottos, which have tombs of more recent popes. They are in these large marble cases with likeness sculpted into the lids. Then into a glass sealed area where the excavations were.
The family tombs are made out of what resembles modern brick, except that the bricks are about 1" thick. They were remarkably well preserved. There was a lot of Roman writing, and the guide interpreted some of it, though it was hard to understand what she said.
At what they believe is the tomb of Saint Peter, there is the name Peter in Roman letters carved into the crypt. The bones have been removed, and the guide said that the Pope has some of the bones in his apartment.
Then, we started up a staircase that was made to show us how the tomb lined up exactly with other Altars that had been used throughout history in the Vatican and how it was dead center with the current Altar. At the top there is a place marking where the tomb is underground, and a group was standing there reciting the Lords Prayer.
On the way out, we were about to pass another pair of Swiss Guards. I raised my camera to take a picture of them, and one shouted out, "NO FOTO!". "Geez…", I thought. "If you don't want your picture taken, quit dressing like a clown". Of course, I didn't say that out loud.
When we got done, we headed back to the Apartment to rejoin Jane and Casey.
In planning the trip, we tried to minimize the amount of clothes we brought, to keep the weight and bulk down in our luggage. This was to be our first of three laundry days on the road. When we got back, we packed our dirty clothes into plastic bags and tried to find a coin laundry we passed on the way from the train station.
We walked all over the neighborhood, and no such luck. We could not find the place to save our lives. So, Jane said that she was going to hand wash everything. It had been raining in Rome, and I was picturing five days of clothes for five people dripping wet and strung all over our apartment, and having it still be wet when it was time to check out and leave. But, I wasn't sure what else to do. We walked down to the supermarket and bought some hand wash laundry soap. Then, Jane got the idea to go up and talk to the hotel clerk who recommended the Noah's Ark restaurant. He told her that there was a coin Landry at the next square over called Piazza Dante. We went back up to the Apartment, got the laundry again and headed over.
Apparently, the concept of coin laundries is fairly new in this part of Europe. When we are on vacation in the states we do this a lot, and just find a local Laundromat, and get a roll of quarters and fend for ourselves. At this laundry, there was an attendant. At first I thought he must just be some guy hanging around, but he actually worked there and showed us how to work the machines. Then he shooed us out and told us to come back in a half hour.
Christian and I went across the street to an Internet Café and I checked email, and we both called home. Jane took Casey to play at the park in Piazza Dante. After we finished at the Internet Café, Christian and I walked to a local market and I bought a liter of bottled water. We had done a lot of walking and I was really thirsty. I was getting better at functioning without Jane there to interpret for me, which seemed like an accomplishment. We met back up with Jane, and went back and put the clothes in the dryer. Then went to a Bar and had cappuccino.
When the clothes were done, it was getting dark, and I reminded everyone that we never had gotten my Credit card back. We decided that the girls would stay at the apartment, and Christian and I would go back to the Trevi Fountain and see if the people at the restaurant still had my Visa card.
We got back on the Metro, and, once again got off at the Trevi Fountain stop, which is not at all close to the fountain. We walked up that steep hill once again, and in true form, I got us lost.
We walked all the way back down the hill, and all the way back up again. It was dark, and nothing looked familiar. Finally, we found the little side street that leads to the fountain, and the restaurant was open.
I went inside and in my best broken Italian asked a waiter if they might have my credit card. He said, "No". He didn't even look, so I wondered if he was just blowing me off, or didn't understand. So, I found our waiter from the day before and asked him. He also said "No.".
We walked outside the restaurant, and I said to Christian, "This is great. We've come here all these times, they don't have my card, and someone has probably been running around Rome for the last 24 hours buying all kinds of stuff on it". Then the sky suddenly opened up, and with a clap of thunder, it started to pour rain. I looked at Christian, and he said, "Perfect". We hadn't even brought jackets because it had been warm when we left the apartment.
We sprinted back down the steep hill, as fast as my very sore feet and legs could carry me. Back to the metro, and headed for Piazza Vittorio. When we got off, I told Christian that I had to go to the Internet/Phone place and cancel my credit card. We had not had dinner yet, and it was getting really late, but I had to do it.
First I went online and checked the account. It had not been used since that restaurant we had just came from. I found the number for the bank, and went to the phone booth and called it. They cancelled the card for me, and said that a new one should be waiting for me when we got back. Luckily, I had brought an assortment of other credit cards. I started to just bring one, and I guess it was lucky I didn't do that.
We got back to the Apartment and collected the girls and headed over to Noah's Ark, which seemed appropriate because it was raining so hard. I ordered my own Pizza Margarita, which had garlic and fresh oregano on it. I never thought I could eat an entire pizza on my own, but it was so good, and so light. We drank wine and watched a soccer game between Italy and England. Part of the way through the meal the power went out. Everyone applauded. The waiters lit candles and we continued to eat. It came on again and everyone groaned. It went out again and more applause. It took forever to get the check again, but we were getting used to the drill. We all agreed that we would never think of US Pizza as real Pizza again.
We went back to the hotel and collapsed in bed after a long day and a lot of walking.
Next: We take a train to Naples and drag our sore tired bodies to the top of Mount Vesuvius, an visit the lost city of Pompeii!
But first…A shot of me and the girls in Saint Peters Square: