One of the things that I really like doing on trips is keeping a central place to live, and taking day excursions, returning back to the point of origin at the end of the day. It is almost like a cruise where you stay packed and don't have to move luggage around.
This was the concept for Naples. We made it a day trip out of Rome.
We got up early. At some point, we discovered that there was a bar downstairs that was open early and had fresh baked croissants, and good cappuccino. An Italian, who spoke no English named Luigi, ran the place. It was raining that morning, and the five of us came down. Jane, Erin and I had cappuccino. Christian had an Americano (American Coffee), and Casey had hot chocolate. Luigi was an artiste when it came to hot chocolate. He started with the usual bag of instant hot chocolate, but he made it with the steamed milk from the cappuccino. It ended up really thick, almost like hot chocolate pudding. This became our morning ritual while in Rome, and I miss it every morning since.
After breakfast, we headed down the street to the metro, to the Roma Termini train station. Upon arrival, we saw that a train was leaving for Napoli right away, so we found the track and jumped on board. Our Eurail passes entitled us to ride in the first class cars. This train was very nice, with private compartments with six seats, and a sliding glass door that made it quiet and private for the five of us. The compartment was clean and comfortable, and I remarked to Jane that if Amtrak had trains this nice in the U.S. that maybe they could actually support themselves rather than being bailed out by the government all the time.
Video: To Naples (45 Sec.)
(We have Breakfast at a bar under our apartment and head to Naples via the Rome Metro and Termini Station )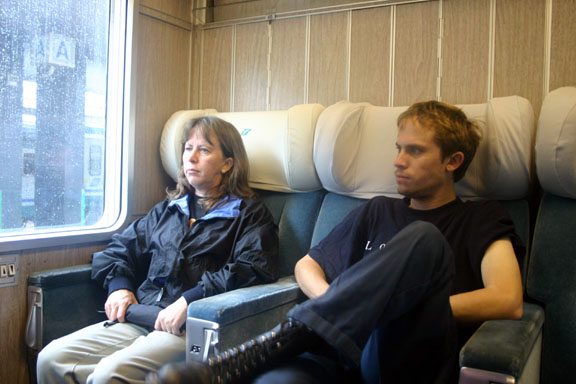 Jane and Christian sitting in First Class on the Train from Rome to Naples.
A bell rang in the aisle, and then a snack cart appeared. We bought a few snacks. I gave the guy 20 Euro, and I didn't realize until he was long gone that he gave me change for a 10. I forgot what the book said about always counting your change. My bad, I guess.
The trip to Naples didn't seem to take very long. When we arrived, we got off the train and headed down the track toward the station. A huge Italian man mumbled something to me as we passed. I didn't know what he said, and figured he was trying to hit us up for money, or something, so I ignored him and kept walking.
About half way to the station, a well-dressed elderly man approached us. He has a badge on that identified him as being from "Tourist Information". He spoke good English, and asked us what our plans were in Naples. Jane told him that we wanted to see Vesuvio and Pompeii. He produced a map and said that he could arrange a driver and a private car to take us to these locations for €110.00 for all of us.
We agreed, and he called over his associate, Pasquali, who happened to be the large Italian man I had ignored just moments before. He told us that Pasquale spoke good English, and would take care of us.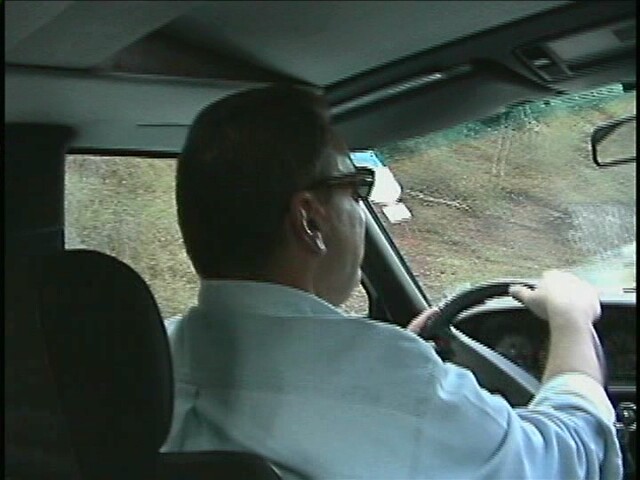 Pasquali. The driver we hired in Naples. This photo was captured off digital video.
We followed Pasquali, who walked very fast, through the train station and to a bar, where he invited us to have some cappuccino while he went to get the car. We passed on the offer having already had our fill of coffee for the morning, and waited outside the bar.
I observed about six Italian gentlemen, all dressed in very expensive suits having some kind of conversation. They all had the same kind of bag slung over their shoulder. I thought they looked like they were from the Sopranos. I have no idea what they really did for a living, but this was Italy.
Pasquale called for us. He had pulled up in a late model Mercedes Benz. It was on the smallish side, so Casey ended up having to sit in Jane's lap.
It turned out that Pasquali didn't really speak English at all, except for a few words. Jane conversed with him in Italian a bit while we started up the road to Vesuvius.
The road went from seal level to quite high in altitude very fast. You could see the ocean, with a large cruise ship at anchor. I thought back to earlier this year when I was with some friends on a cruise that stopped at Roatan Island in Honduras. We ended up hiring a van and being driven around by strangers. We could see the island of Capri in the distance.
Once we got to the top, Pasquale pointed to where we needed to go. I was hoping he would still be there when we got back, but we had negotiated to pay him upon our return, so I figured that he had no reason to take off on us.
We paid for admission to climb the mountain to the top of the volcanic crater. Vesuvius is still an active volcano and erupts from time to time. After we passed the place to pay, there were some people handing out climbing sticks. I could see a sign visible to the people coming back down the hill that said, "Tips for the Sticks". Christian tried to tip them right then, but they wouldn't take it.
Video: Climbing Vesuius (1 Min 07 Sec.)
(Journey to the top of Mount Vesuvius, the Volcano that destroyed Pompeii. Erin is Frightened by an Italian Bug on the way back))
It was quite a walk to the top, very steep, but on a well-maintained trail. Jane had climbed it before in 1978 while pregnant with Christian. When we got to the top, you could see steam coming out of part of the crater. There was also a fantastic view of Naples and several miles of coastline.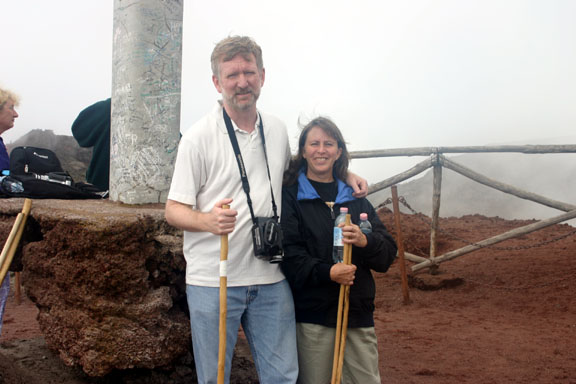 Me and Jane at the top of Mount Vesuvius, the volcano that destroyed Pompeii
We walked back down the trail to the bottom, and gave the stick people their sticks back and a tip.
Pasqualle was waiting for us. We packed into the Mercedes and headed for Pompeii.
I had no idea how huge Pompeii was. If you are planning to go there for the first time, think about spending a couple of days, not a couple of hours. This place is definitely on my list of locations to come back to and spend more time exploring.
Video: Pompeii (1 Min 44 Sec.)
(The lost city of Pompeii under a dramatic sky)
Many of the homes and buildings are still standing. Artwork is still visible. One of the strangest things about the area are plaster casts that were made of humans and animals that died in the eruption. Apparently, these bodies laid encased in ash for hundreds of years. The bodies disintegrated, but the ash remained, and became solid enough for archeologists to pour plaster into these cavities and come out with life-size replicas of the bodies.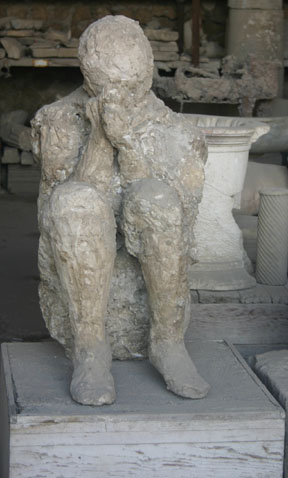 After our too fast tour of Pompeii we returned back to the car and Pasqualle. He drove us back to the train station, and when I paid him the agreed on amount, plus a $20.00 tip, he insisted that I owned him another €20.00 for parking fees. Jane could see that I was about to start negotiating with him, since his partner told us that the 110 Euros was "everything". Jane said, "Just pay him". So, I did. That was the second time that day I felt like I got cheated. I guess I should have written down what the old guy said and had him initial it. Live and learn.
When we got inside the train station we found out that a train was leaving immediately for Rome. We headed for the track and jumped on.
This train wasn't as nice as the one we came out on. It didn't have the nice first class compartments. But, we figured that a ride was a ride. Soon, we realized that we must have gotten on some kind of commuter train, because it stopped at every single town between Naples and Rome, taking about twice as long to get back to Rome as it took to get there. At some point a gentleman sat opposite Christian and me who smelled like he had been soaked in cat urine.
Once we got back to the Termini station, we hopped the metro and ended up back at Piazza Vittorio, and went immediately to have dinner at our favorite place, Noah's Ark. It took forever to get the check again, but by this time we knew the drill. We sat back and had a nice, long dinner.
Next: Our last day and night in Rome. We visit the Vatican Museums and see the Sistine Chapel!
But first… The lost city of Pompeii under a dramatic sky: