We had all settled into our apartment in Rome, and the thought of leaving it for the unknown had us a bit unsettled. In just a few days, we felt like we were part of a neighborhood. We had a routine with breakfast in the morning with Luigi at the Bar downstairs. Long Dinners at Noah's Ark. The Bancomat across from the stairs down to the Metro. I had even figured out a way to go under Piazza Vittorio to cut across to the Internet and phone place on the opposite corner by using the Metro tunnels. But, we had other adventures ahead. None of the places left on the schedule would find us staying for more than two days. We were all a bit sad about packing up, but we decided to make the most out of our last day in Rome.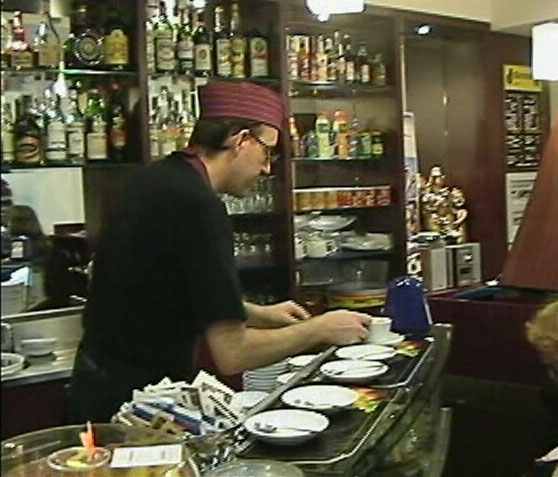 Luigi sets up five cappuccino's an a hot chocolate at the bar located directly under our apartment in Rome
We had made reservations over a website called Select Italy before leaving home to visit the Vatican Museums. The price you pay to the site does not include the entrance fees. What they do is send a local down to make a reservation so you don't have to wait in line. We had seen the line a few days ago when we went to the Necropolis, and it was so long that the reservation was money well spent.
When we got to the Vatican, we weren't sure where to go, or what to do. We had instructions on our reservations, but the Vatican is a big place. Jane finally went into an exit and asked someone inside what to do. He said, "Come back here 15 minutes before your reservation".
It seemed weird, but we waited around outside, buying some food and drinks from a street vendor and watching the people. When the time came, we all started into the exit. Some guy told me it was the exit, and I said, "I know". Went in, and I fully expected to be kicked out. But, we showed our reservation to a guy inside, and he walked us over to where we were supposed to go, around the huge line. He pointed out the ticket counter for advanced reservations, which had no line. I cut across an area, going behind some stanchions, because I had no idea how to get there the right way. Someone stopped me and pointed out a security area similar to one you would pass through at an airport.
We got in line there, and put our packs on the belt for the x-ray. I walked through the metal detector and set it off. Someone had me step aside and went over me with a wand. The guy was absolutely silent, and humorless.
After we passed security, we went to the ticket window and paid for our tour. We were shown an area to wait. Soon, someone came by with wireless headsets that had a belt clip controller. This was a nice touch, and allowed the tour guide to talk in a low voice, so you didn't have a bunch of guides yelling over each other in different languages.
The tour was very long and we saw amazing works of art. Paintings, Ceilings, statues, everything one can imagine. I have no idea what the value must be for such a collection. But, I can't imagine that anyone, regardless of their background or feelings about the Catholic Church would not be impressed.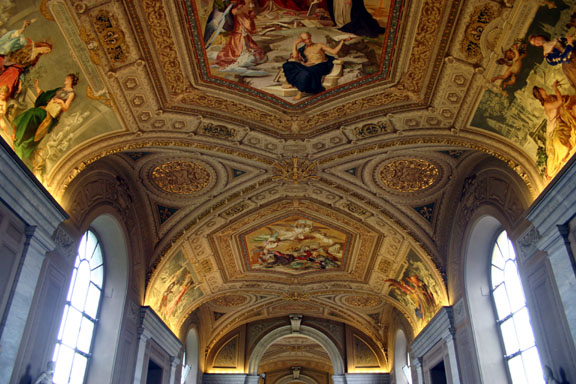 One of the many ornate ceilings we saw in the Vatican
At the end of the tour, we were allowed into the Sistine Chapel. No photography is allowed in this area. It was amazing seeing some of the famous paintings my Michelangelo, like the one with God touching Adam that everyone has seen so many times. It was one of the awe inspiring moments of the trip.
After we left the Vatican we went around to try to buy some things from various street vendors that we had seen at our visit a few days before. But, it was raining, and nobody was outside selling.
We had lunch, and then headed to the Coliseum. We had been five days in Rome, and had visited the Coliseum twice before, but never made it inside. I was really worried that it might be closed and I wouldn't be able to see the inside before leaving Rome. But, when we go there it was still open. Jane decided not to go inside, because she wanted to look at a different are of ruins right next to the Coliseum that she had not seen before. I took Christian and the Girls into the entrance to the Coliseum.
Video: Walking to the Coliseum (45 Sec.)
(Street Musicians play while we make our way to the Coliseum)
Someone organizing tours approached us. We went ahead and paid them to take us on a guided tour. After wandering around Pompeii without much of a clue about what we were seeing, I wanted someone telling me what I was looking at this time.
Our tour guide spoke reasonably good English. He said he was an Archeologist, and had interesting things to say about the Coliseum and Rome that I had never heard before. He said that most of the original structure had burned down a long time ago and had been rebuilt. He also said that very few Christians were fed to lions there, but that it had happened at a different location. Gladiators rarely fought to the death, and didn't really fight that often, perhaps once or twice a year. Most lived to a ripe old age, according to our guide.
The tour was very short. He said that the Coliseum was going to close early that day because of a Football (Soccer) game between Italy and England. After the tour we were allowed to walk around inside the Coliseum, and we took photos. It rained, and we got wet, but this was probably at the top of the list of places I wanted to visit in Europe.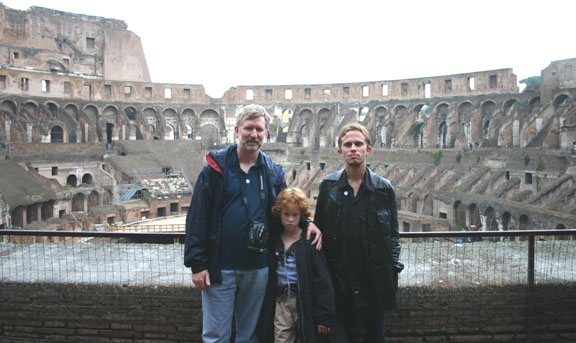 Me, Casey and Christian inside the Coliseum
After the tour, we met Jane at the Arch of Constantine just outside the Coliseum. We ducked inside the Metro station, and headed for the Apartment.
Video: Coliseum (31 Sec.)
(We finally make ti to the coliseum, and give our honest evaluations)
We had one more dinner at Noah's Ark, and watched some of the Soccer game that closed the Coliseum early. It continued to rain, and the electricity went off a couple of times, but everyone continued to eat and have a good time. We drank wine, and ate our favorite Pizza one last time. At the end, we told our waiter that it was our last night. He wished us a good and safe trip, in Italian. We walked in the rain back down the block and stopped for Gelati at the Roman version of 31 Flavors, and carried it back to the apartment, where we spent our last night in Rome.
Next: We head to Florence where we see the statue of David, and discover that a fellow American back in the states had swindled us out of a lot of money!
But first…. A photo of our wet, but happy crew at the Arch of Constantine, just outside the Coliseum in Rome: