"Nerissa, cheer yon stranger; bid her welcome.
Your hand, Salerio: what's the news from Venice?
How doth that royal merchant, good Antonio?
I know he will be glad of our success;
We are the Jasons, we have won the fleece."
William Shakespeare, The Merchant of Venice
We took a cab from the Hotel in Verona to the train station and jumped on the first available train. The Eurail pass is a great thing. You just get on. But, it doesn't guarantee you a seat, and for the first time, we found ourselves on a full train.
The kids and I squeezed into the end zone of one car near the WC (bathroom). Jane went and stood in a similar area of the next car, but just on the other side of the doors from us. We had all of our luggage, and people were standing all in all the aisles. We made the best of it. I shot some video and digital stills. Erin put on her mask that she bought in Verona. She sat on her luggage and looked out the window. It was the morning of her 20th birthday.
Erin on the Train to Venice. Her first day out of her teens.
After the first stop, I noticed some people exiting a first class compartment. I went in and there were two men speaking German. There were four seats open, so I asked if I could come in. When they shook their head yes, I waved at the kids, and they came into the compartment. This was apparently too much for the two Germans, so they got up and left the compartment. Christian went to the next car to tell Jane we all had seats. We had our own private compartment again.
The older kids and I had gotten used to picking our bags up and slamming them into overhead compartments on the train. We were becoming pretty organized at this.
After a while, we noticed that there was water on both sides of our train. It appeared that Venice was very near. We got the luggage down on the seats and headed for the door.
All of our hotels were booked over the Internet, site unseen. We did very well on some, and not so well on others. This time we had booked Hotel Villa Parco. Their ad on the Internet said they were in the Lido area of Venice. I had no idea what that meant, and just assumed that if it was in Venice, it was in Venice.
When we exited the train, I pulled out my directions. There were very explicit instructions to take water taxi #51 to Lido. From there we could walk or take a private taxi. We found the ticket station for the water taxi, and I went up alone and used my new found Italian language ability to purchase "cique bigletes a Lido, por favore".
The water taxi was packed. It is a fairly large ferry boat with seats, but all were taken, so at first we ended up standing in the aisles with our luggage. After a few stops a couple of seats opened up, and Casey and I sat down. Jane and the older kids were in a little compartment just ahead of us.
The water taxi ride was very long. I began to wonder where in the heck our hotel was after we passed Saint Mark's square, and saw the Gondolas going down the canals.
After we got back home, I found the map below, that sort of explains the situation: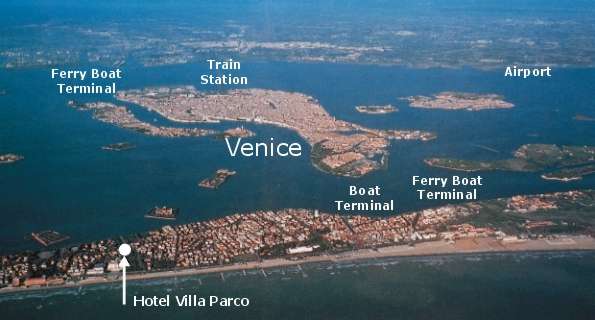 A map from the train station to our hotel on the island of Lido.
It ended up that we were actually quite far away from what I would consider Venice, across a bay. I was a bit disappointed by this, but there wasn't really anything we could do about it.
We arrived at the boat terminal and took a regular taxi to the hotel, which turned out to be very nice. They had a nice little pond in front with goldfish in it. It was in a neighborhood with houses and small shops.
We decided to try to find lunch, but once again, we hit town after lunch and before dinner. We didn't figure out for a few more days how to get food during this period when every single restaurant is closed.
We decided to head back to the boat terminal and take the water taxi to Saint Marks Square to see if they had some food available there. After we ate, we would take a ride on a Gondola.
After a long, hungry ride to the square, we found that there was no food to be had there either. One restaurant told us to come back in two hours. So, we decided to go ahead and take the gondola ride then and eat later.
We found some guys dressed in stripes, and someone came up and asked if we wanted a gondola ride. "Si, cuanto costa?", Jane asked how much it cost. "€100.00 for everybody", he replied. I don't know if this is a good price or not, but we had five people, and I figured €20.00 each. We took it.
The gondola guy spoke some English, but mostly Italian. He would tell us about what we were seeing, and some history of Venice. Then he would see a friend and have these long conversations as we floated by, until we got too far for them to hear each other. Then he would tell us some more in English.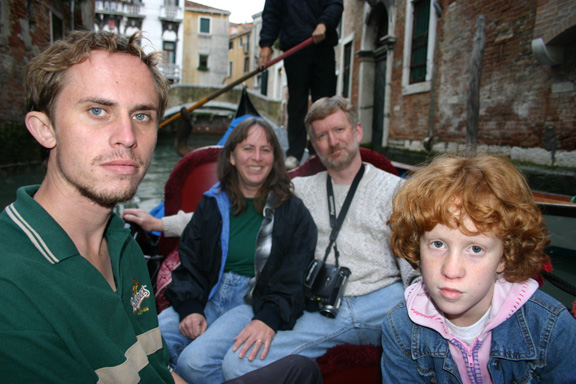 Christian, Jane, Joseph and Casey on a gondola in Venice.
Oddly, I thought about being at the Venetian hotel in Las Vegas watching the gondolas there. Believe me, there is no comparison. For what most people waste in slot machines on a trip to Vegas, they could probably come to the real Venice.
This trip was full of moments I will remember for the rest of my life. This was one of them. Just looking at the buildings built right into the water. Venice is like no other place I've been. Anyone going to Italy really should put this on the itinerary. There just isn't anything close to it on the planet.
Video: Venice (2 Min 40 Sec.)
A gondola ride in Venice on Erin's 20th Birthday
When we got back to Saint Mark's Square, I paid for the ride, plus a tip for the captain. I guess tipping isn't as common in Europe, because people seem kind of surprised by it, and very grateful.
We went and found a restaurant, and had… guess what? Pizza and pasta again. It's funny, I was talking to my Mother on the phone from Italy and she asked what kind of food we had been eating. I told her, "Italian Food. It's all they have here". She sounded surprised and said, "Really?". But, it was so good, that we didn't get tired of it. There was a lot of Asian, and other ethnic food available, but we really liked eating Pizza and Pasta, drinking a bottle of wine, and having cappuccino with desert. Besides, we knew our time in Italy was drawing to a close, and we would miss the food.
We made it back to the square before the last boat sailed back to Lido. We didn't get on #51, because we saw another water taxi that said it went to Lido. It was much larger and had a lot of seats with an upper deck. So, we jumped on that one.
When it got to Lido we exited the boat, and it was gone before we realized that we were in a place we had never seen before. At first I got worried that we weren't even on Lido, but it said we were. But, it wasn't the same dock that we had used earlier. It wasn't even in the same neighborhood.
We didn't really know what to do. It was night, it was cold and raining a little bit, and there was nobody around. I got this creepy feeling that we were going to end up wandering the island of Lido lost for the rest of the night. Then I remembered that I had asked the lady at the hotel who called our taxi for us to give me the number of the taxi company. I also had a cell phone that I had rented from my cell company in the US, Nextel. US cell phones don't work in Europe. They have a whole other system. So, I rented this phone for $99 for a month, and they charged something like $1.30 per minute for world wide calling. It's a lot if you are going to yak forever, but I rented this for emergencies. This seemed to qualify. We painstakingly figured out how to dial the country code, city code, and phone number in the cold, rain and dark. We finally got it right, and before we knew it we had a Taxi.
We went back to our hotel and went to bed. That night I watched the Italian version of the reality TV show, "Survivor". I am a big fan of that show, and it was funny how easy it was to follow what was going on. They had the same format, and the same kind of characters. The crusty old man, the sex kitten young girls who just want to tan naked, the buff guys who strut around making shelters, a couple of old crones. It was hysterical.
Next: After too short a time in Venice, we head for Milan and see the one and only authentic "The Last Supper" by Leonardo Da Vinci, and learned what country bombed the building that housed this masterpiece during WWII (hint, it starts with "United").
But first: A photo of Jane with the reds on the water taxi on the way to the wrong terminal at Lido.